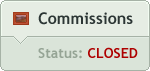 Commissions are available via auction at this time, so keep your eyes peeled for my next opening. Slots are usually announced on FA or through my journal.
______________________________________________
Please read through the
Terms of Service
carefully before committing to a commission with PracticalFX.
Parental Permission -
Any customer under the age of 18 must have a parent or guardian contact PFX via email and grant permission for their child to commission.
Payment –
All payments are to be in USD and transferred via Paypal unless otherwise stated. Please state in the description 'Character's name' and your initials when making all payments.
This does not include the 4% Paypal tax you will have to cover with each payment. Please remember to consider currency conversions when paying as well.
Time-payments -
PFX require a 30% down payment to help with the purchase of materials, with a minimum of $100 instalments once a month until completely paid off.
Late Payments -
In the event of overdue payments, we reserve the right to either sell your suit, or charge a certain % of interest each day on all payments hereafter.
Work does not begin until payment is received in full!
Shipping -
Shipping is not included in the final price and must be paid before the suit is sent to the customer.
An address is required to determine shipping costs. PFX ship worldwide via Express Courier International, which includes insurance and tracking. But keep in mind that PFX do live in Australia and shipping may be costly in places outside of the country.
PFX will not mark the piece as a "gift" in customs. You are responsible for any additional customs charges for your country. PFX is not liable for damages or loss once it leaves the post office.
Discounts -
PFX does not offer any discounts and prefer to pick our own fur/materials for each project to reduce any concern of discontinued items in the future.
Deadlines -
At this time PFX do not offer deadlines or estimated completion dates, and prefer not to feel rushed or stressed to finish a costume and risk any quality being lost. Determining the order of suits depends on when customers finish paying and who finishes paying first. Because of this, suits may still move around on our queue. We just ask for your patience!
Refund Policy:
0% complete - 70% refund
25% complete - 45% refund
50% complete - 20% refund
75% complete - no refund
100% complete - no refund
Concept art -
Concept art is required when getting a commission. It should have 2-3 different views of the character you are wanting to get a suit of, or at least show most of the markings. These can either be purchased through our studio's concept artists
TwilightSaint
DolphyDolphiana
or provided by the client themselves.
Repairs -
Repairs can be made for no cost as long as the warranty has not run out. The warranty for any suits or parts that PFX make is three months.
Allergy warning -
While there are dogs living in the house, they are kept out of the workroom to keep their hair from getting on the work material. Everything is vacuumed before being sent out to reduce allergies, however if you are extremely allergic, please announce it or reconsider another maker.
DTD -
All fullsuits require a current DTD (duct tape dummy) to be sent to our address. Please make sure to tape it back up along the seams but left unstuffed before sending! DTDs not taped up will incur a $150 labour charge.
Signature of agreement -
Each person is required to sign a form of agreement and email this back to signify they agree to and understand the TOS.
______________________________________________