Siara-chan
asks: What's Saki's fav color? ^^
Saki
answers: I really don't have a favorite color, love. I like all of them. Except black; that color's so depressing.
------------
Hey guys! I know I said I'll be accepting any and all questions for my OCs, but so far I only got one. Not to fear, though; they're still open!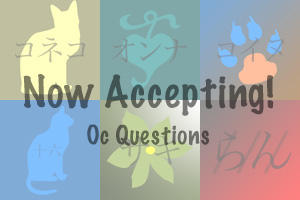 Koneko Kuriimuiro
Onna Wakai
Koinu Kuriimuiro
Kare Juroku
Saki
Ran
Any of the above OCs are available, along with Kani "Brenna" Mukizu, Brandon, Kaede "Brandie" Fuketsu, Katee Awons, and my minor OCs Kiki Minatsu, Makaria, and Mishito Uzumaki.
Please keep in mind with my Naruto OCs: I am up-to-date on the Naruto Manga, including the 700+ Chapters. This means Koinu is no longer eight years old; she's an adult like the others. Also, Inuan and Amia are now dead; they died during the war. Mishito and Saki have gotten together and got married; they now have a daughter named Misaki, who's the same age as Boruto, Naruto and Hinata's son.
Ask away! Feel free to ask about fan fiction events as well.

Update 7-1-15: Introducing Katelyn Tamara "K.T." Makellos. She is now available for Q & A.