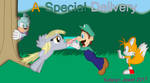 You may have seen a while back that I uploaded this title screen to a short I'm working on called "A Special Delivery" (which I plan to update since I'm not currently happy with how it looks.) I've been going back and forth whether to have it be a comic, an animation or both. I'm leaning more towards animation now. I'm currently taking a hiatus from "New Adventures of Sonic The Hedgehog" because I felt I needed something smaller and simpler to practice animation on before I continue trying to tackle something big like NAoSTH, and since I've been into the not only the Sonic franchise but the Super Mario Bros. franchise as of lately, I decided to create a new series of shorts called "Video Game Community" which is a sitcom style series similar to "Sonic Boom" that focuses mainly on the Sonic and Mario characters while also including other video game characters and occasionally toy characters (most notably Derpy since she's part of the Sidekick Trio.) Unlike NAoSTH, it will have more of an anime style look to it like with "Sonic X."
The first episode "A Special Delivery" has been fully scripted and storyboarded; and I'm currently animating the first scene. All the main characters here currently have voice actors except Luigi (though I don't know yet whether or not Tails will still be voiced by the same actress as he is in NAoSTH since she hasn't said anything yet) so if anyone's up to voice him, let me know. I'm hoping to get this short done some time early this year.
UPDATE: Luigi has now been casted.