Feel free to submit anything Power Pony related to the submission box!

You can submit OCs, any of the main 6, pretty much anypony that's a Power Pony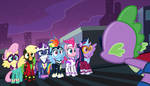 Like all groups, we have rules here!










1. No blood or gore.
2. Nothing involving very close love.
3. Make sure your costume is appropriate.
4. No dumb art-that means no trolling!
5. Have fun!