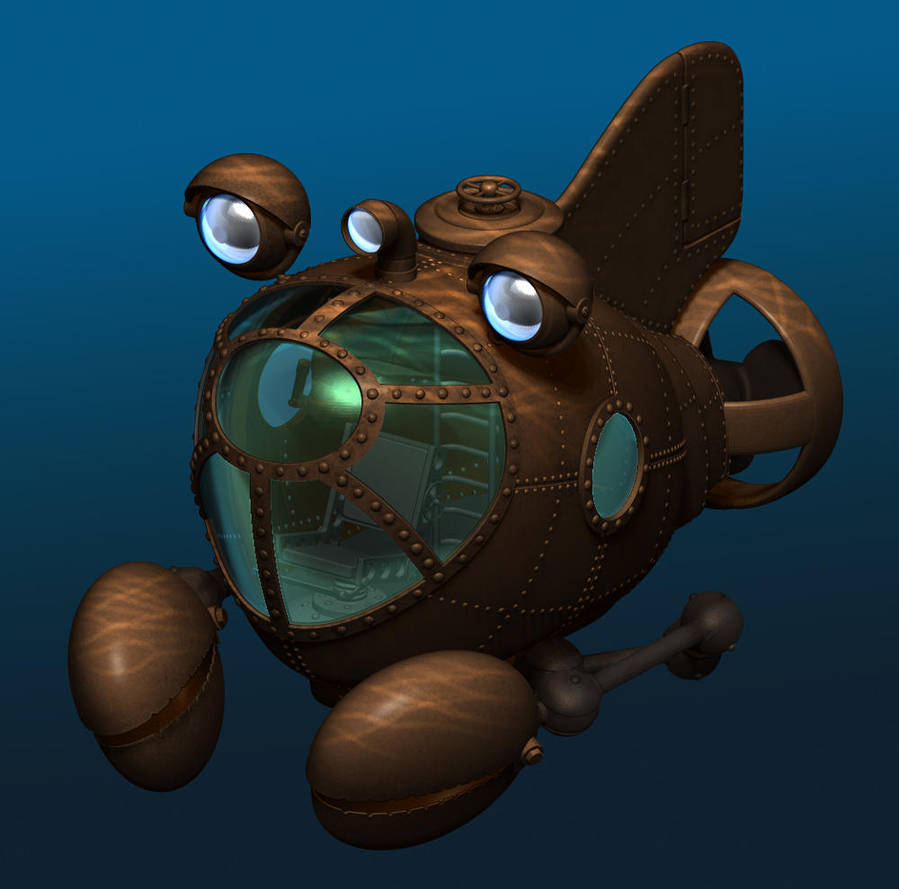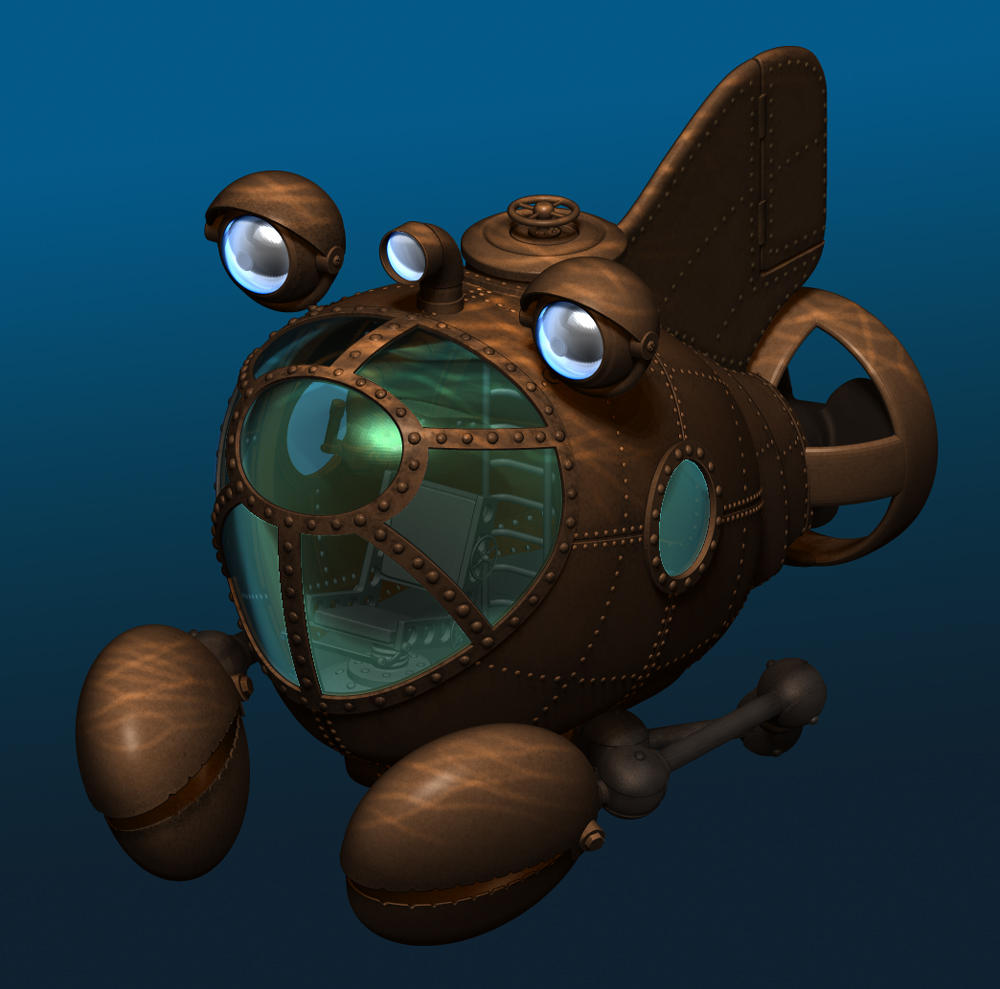 Watch
I am teaching myself to use ZBrush. This is one of my recent creations relating to an idea I have for a childrens' story.
The water effect was just a bit of photoshop dodge on the ZBrush render

Total coolness. Yes, i recall you did some children's stuff before. This is very unique!
He (or she) looks great!
It's a fun piece of work!

Reply

Thanks for that! I love whimsical machinery, I would love to do more.
Much appreciated

Reply

Did you not do some children's books?
If not, you might want to submit some ideas to a publisher.
Reply

Niiice! must try that Z brush, I guess Photoshop is getting rather old...
Reply

Hi!
Zbrush is a great 3D modelling program, but has limited use for animation and lighting setup - mind you, I only have my trainer wheels on!
I am no master of Photoshop either, but I used it here just to sweeten up the watery look.
Thanks for the feedback - much appreciated

Reply

Oh I know. The thing is that I've worked painting backgrounds for 2D animation and now it seems everything "must" be 3D so I am getting a feeling that I should learn those programs or try to find another job heh.
Reply

I wonder sometimes if we may end up with an over- saturation of 3d perfection...when I see handmade animation like Miyazaki's or stop motion like ParaNorman, it seems like there is great opportunity for individual talent or vision to shine through away from purely digital animation.
I started Zbrush because I have too many wacky ideas and concepts in my head and it seemed like the perfect way to make them happen, but most of my sculpting and painting has been physical.
I sometimes wonder what would happen if we had to create something on the computer without CNTRL-Z to bail us out...I think that may be the biggest difference between the way we approach physical and digital art.
Sorry to get all philosophical like that!
Thanks for your feedback, and all the best with your animation work

Reply

I am already saturated by 3D "perfection" even as a watcher. But that's just me heh.

It is very possible that I won´t work in animation anymore, (after my 4 movies, now it seems there's no work here in Mexico due to outsourcing and abusing people already hired).

I get the feeling that in the future (maybe not so distant) handmade stuff will be more valuable, so I am now redirecting my efforts to childrens' books and other stuff that looks cooler when it's done in the physical world.
Reply

I wonder just how much outsourcing the industry can take...my son has recently graduated in 3d animation and has struggled to find meaningful work despite being good at his craft. And it's true about abusing staff...once the studio knows that work is scarce they can get away with paying poorly and working folks too long and hard.
It's interesting you mention children's books - I had a few ideas of my own rattling around that have yet to be fleshed out properly. I self-published one with an writer (I illustrated and set up on Indesign). That was fun, but my head is full of wackier ideas that I haven't been game to work on for fear that it is too self indulgent.
Anyway, I hope you are being treated well in your job, and hope to see some 'analogue' art from you soon.
Reply

Haha wacky is never a bad thing! You should try though, I think maybe illustrated albums for teenagers?

For the time being, I have no job, just freelancing. I am actually moving to Argentina and hoping to find more work there hehe
Reply

This is a delightfully appealing sub. It has all of the big-eyed begging appeal of our goldfish and our last puppy combined.
Reply

Actually, the story has the sub piloted by a sea dog, so I' happy that it looks a little puppy-ish...thanks for the feedback!

Reply