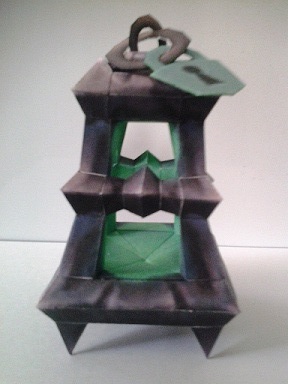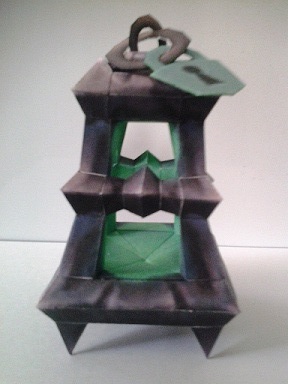 Watch
The finished papercraft of the Chain Warden's soul lantern.
The model stands at 5 inches tall with its 45 pieces on 3 pages. Please be aware that some of the pieces of this model are small.
You can download your own from here

www.mediafire.com/download/u27…
: The .pdo are also open if you want them larger or smaller than the current size. Any feedback to make it better/easier if you make this would be appreciated.
The lantern and Thresh© Riot Games.

Hola oye tengo un problema: S modifique la linterna para hacerla mas grande pero me pide un codigo: S
Reply

Thanks for your critique. Singed was a favorite to make as well.
Yeah... veigar's model is pretty bad. But that comes with the age of it. I'm thinking he'll get a visual update soon since hes one of the few left with "pizza feet."
The easiest way i can think of is to do the whole planar thing to it, but make the buckle into a top half and a lower one so you dont have it cutting into the belt like it does now. You can move the front points of the belt forward or back along so the buckle parts dont have little grooves that will make things more difficult.
I go between file converters and blender and importers in 3ds max, depending on the model im working on, so theres nothing to say there since you've already found a working way to work on veigar(dont fix what isnt broken).
I'd say with reducing count is keep the model's main aspects fancy, remove the unnecessary details that will still be there with the textures. Things like teeth, spikes, buttons, ribbons, ect. can be reduced to their most simple shapes as long as they arent anything that important.
I hope you dont mind me hiding your comment. Its kind of out of place where you posted it. You can just send me a note if theres anything else you would like to say.
Reply

i cant download it... can u send it by email?
Reply

Reply

my email is juni_9220@hotmail.com it doesnt work.... i cant open it on my computer
Reply

I have downloaded the file myself and everything seems fine. I think you may be missing a program for this.

If its the RAR that you cant open, then you'll need something like winrar or 7zip.
If its the PDFs that you cant open, then get adobe reader or foxit reader.
But if its the PDOs that you cant open, then you need pepakura viewer.

I'll be sending the files to you since that's what you originally wanted me to do.
Reply
Great work! Could you please make a bigger template? I'd like to use it as a base for my Thresh cosplay.
Reply

this is insane i have to try this, i have a friend that loves LoL
Reply

yay this will help me a lot in mi thresh cosplay

Reply

It may not as much as you'd like it to.
This lantern is just a bit larger than the size of a fist, where thresh's real one is about the size of his head.
But if you like, I could always make a template for you of a larger size.
Reply

As a big fan of thresh, i approve!

Im actually working on a cosplay for thresh and i think this could really help me out!

However, im lacking some direction and think you could be a great help

Ive done a little bit of research into ultimate papercraft 3d (upc 3d), and have heard that there's a way to import league of legends models and create a papercraft layout from it.

Only problem is that i simply dont know where and how to import those models... (that and my knowledge of that program is very limited).

Think you can help? all i need is a papercraft layout of thresh's head.... a plan of the entire model would be a god send, but really any advice is great :3
Reply

I don't know much about papercraft as part of cosplay, but there is a site that I think would help you more than I could
[link]
, especially the cardboard section for what you have in mind to do.
What I can do for you is get the files for you from League and put them up for you to download as a few different types. Upc is something I have never used before so I don't know which it will be best to import Thresh as.
Reply

thank you so much for the link. i-it answers so many questions... it'll be a great help :3

and if you can put up the thresh model to download it be amazing!
Reply

Could you make a tutorial on how to put this together please?
Reply

I tried to with the readme I left in the .rar and the numerical building order that I made in the _FOLDS. What kind of tutorial did you have in mind?
Reply

By tutorial, I meant I was wondering if you could explain on how to fold the pieces and where to glue each piece.
Reply

[link]
I think this tutorial will do better than any one i will make. The "Folding" and "Gluing" sections have what you want to know, if you just want to skip to that.
If you're using the pdo. files, a red line will appear on the tabs when you mouse over them. The lines will point to where the tabs are to be glued to.
Reply

Reply