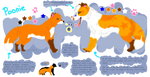 Name:
Poonie
Nickname(s):
Poon, Spoonie, S
poon
Gender:
Female
Spiecies:
Red Fox (vulpes vulpes) Red colour var.
Age(human):
23
Preference:
Straight
Mate:
Diffy
Personality:
Poonie is overall a happy fox to be with. she loves bright colour, flowers butterflies, overall nature.
She is protective at the ones she loves, but she like to make new friends too.Poonie loves to play around and to play little games too, acting somthimes a little silly..
She's very curious, but still can be very shy around.