My new banner:

So, I
had to
make a new banner for my

Patreon
page. Back in March user pages were changed in such a way that my old banner no longer fit due to wrong proportions. So, after months of procrastinating I thought I should finally do it. I made it look similar to the previous one and replaced Pinkie with Berzie.
I made 3 similar banners, with different background and the one I decided to go with was chosen with help of
Magello
Here's my old banner (for comparison)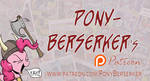 I used different comics for the background.
If you enjoy my comics and you want to support me, then
I naturally encourage you to support me on

Patreon here
. Every bit counts. If that's too much, then remember that DA watch, 'favs' or nice comments count as supporting to.
Moral support is actually important too.
MLP and its characters belong to Hasbro.
Image details
Image size
1600x400px 949.95 KB