EDIT#2 - We're extending the deadline for one more week, so the new deadline is July 8th. Thanks for all of your entries so far, and if you haven't entered yet, what are you waiting for?

EDIT: In addition to 1 year premium membership, the 1st place winner can choose to receive a print of Pinkie Pie and Fluttershy signed by voice actress Andrea Libman (who voices both characters). If the winner declines, the 2nd place winner will have the chance to receive the picture; if they also decline, the 3rd place winner will win it. Scan of print found here
:
i136.photobucket.com/albums/q1…
World-wide shipping included.
~~Family Fun Contest~~
Hey guys!
It's time for our third contest. Our previous contests have been remarkably successful, and we have no doubt that this one has the potential to be our biggest yet thanks to the increasing size of our community. Our latest contest is called
Family Fun
and, as is apparent from that title, will focus on the significance of family. We're not offering money as prizes, but, as was the case with our last contest, we will be offering a
full year of Premium Membership as the top prize.
Interested? Read on.
The Rules/What is this contest about?
Family plays an important role in a lot of people's lives. Different people have varying notions about what constitutes as a family, although for the sake of simplicity we'll be taking it as meaning a blood connection between relatives. We want you guys to explore the theme of
Family
in this contest. That means you could draw a mane 6 character with their in-show family, or design a family for characters who don't have a discernible family within the show. Alternatively, you could draw your OCs and their families. Preferably these families would be
engaging in some sort of family activity
within the image. However, that's not all:
Your image must include, in some way, shape or form, the little black pony silhouette from our group icon (it doesn't need to be an exact rip of the image as long as it resembles the pony):
Here are a couple of examples from our previous contest of just a few ways in which you could use the silhouette (although you can be as creative as you like!):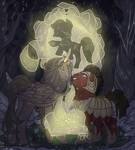 :thumb338241476:
That black silhouette must be in the image to some extent, although how you use it is up to you! All sorts of ideas could work: you're free to go fairly 'out-there' with this contest.
As long as the entry has the silhouette in the image in some fashion
and follows the theme of
Family
then your entry will be counted. The reason we require the silhouette to be included is to prove that images have been made exclusively with this contest in mind in an effort to deter opportunists who may randomly stumble upon the contest and submit an old deviation with the same kind of themes. Including the silhouette ensures that deviations are made specifically for this contest. Having that as part of the criteria will keep things fair – only those who have put effort into the contest will be in with a chance of winning, rather than people simply seizing on an opportunity.
You are allowed to include:
• Characters from the show (Celestia; Fluttershy etc.)
• Original Characters
• Equestria Girls if the style of the film is followed (for example: skin tones from the film must be used)
For this contest literature entries will not be counted – this is because in a contest between images and literature, it is very unlikely that a literature entry will win, which isn't fair on writers. It's almost unprecedented that a story proves to be as popular as an image in a contest like this. That's no insult to the story; it's just that the majority of people tend to find it easier to quickly look at a picture than to invest time reading 1000s of words of text.
How to Enter
During the time that the contest will be running, there will be a new folder that you can submit to alongside 'Submission Box'. This will be called 'Family Fun Contest Entries'. Submit your entries there and we'll handle the rest. It's a good idea to specify in the title of the deviation, or the description, that it's for this contest, as well.
There is no limit on how many times you can enter, but each user can only win once!
How will the contest be judged?
At the end of the time frame for submissions, the ten deviations that we feel best represent the theme of the contest will be selected by the admins and a poll will be run. You, the members, can then vote on this poll, which will be on the main page of the group, for the entry that you think best illustrates Family and makes good use of the black pony silhouette. This poll will run for one week, and at the end of that week the three deviations with the most votes will win 1st, 2nd and 3rd place. By us selecting the top ten, and then you guys having control over which of them win, we hope to strike a balance between moderator and member interaction, so that everyone gets a say.
What are the prizes?
•
1st prize
= 12 months premium membership or the 2,396 DeviantArt point equivalent + pony print signed by Andrea Libman, the voice of Pinkie Pie and Fluttershy
i136.photobucket.com/albums/q1…
(thanks to
SAB3600
!)
•
2nd prize
= 6 months premium membership or the 1,272 DeviantArt point equivalent (thanks to
SAB3600
!)
•
3rd prize
= 3 month premium membership or the 636 DeviantArt point equivalent (thanks to
SAB3600
!)
(Winners are free to request prizes be given to a friend if they so choose)
What is the deadline?
The deadline for contest submissions is July 8th 2013, giving you just over one month to enter! Deviations will then be chosen and the poll will be put up!
***
Best of luck to everyone who takes part! Tell your friends, and let's make our third contest into a massive success, just like the first and second! Again, many thanks to
SAB3600
- it's because of him that we're going ahead with another contest! Thanks so much!
You must be in our group to enter! Any questions about the contest/unclear about anything? Feel free to ask in the comment section and we'll respond ASAP! Good luck!

Good luck to everyone who entered! I don't know how my piece will do... only time will tell!