Tomás Saraceno on the Roof: Cloud City
May 15, 2012 — November 4, 2012
at The Metropolitan Museum of Art, New York, New York
www.metmuseum.org/en/exhibitio…
I learned of this exhibit from Polyhedra enthusiast Edward Popko. Popko describes it as a "play of polyhedral form, light, city and you (as participant).
I haven't been to the exhibition, it's hard since I live in Arizona. But The Met photos make me want to buy a ticket to New York just to see it. Maybe I will get a chance before November 4, 2012.
I asked The Met for permission to publish some of their images and Naomi Takfuchi graciously sent me several photos: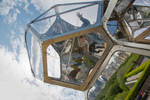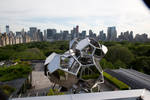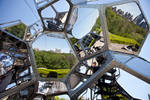 However, Deviant Art's default is to put ©2012 ~Hop41 underneath the photos. I have no copyright on these photos, they belong to The Met.
I'm not sure what to call these polyhedra. At first I wanted to call them Platonic dodecahedra, but closer examination shows they aren't. They might form a honeycomb.
I am very pleased to see The Met do a powerful polyhedral exhibition.
Hop David