I discovered a week ago the twitch channel of the great and talented artist
HAmatsu
, and I had the chance to suggest some characters during his streams. Here are some of these characters :
- Tohru (from "Kobayashi-san chi no maid dragon") :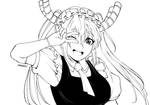 - Diamond (from "Houseki No Kuni" (Land of Lustrous)) (so beautiful <3):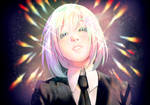 Don't hesitate to take a look at his
gallery
, his
instagram
or his
facebook
page.
And if you're interested, you can also follow his streams on
twitch
,
picarto
or
youtube
.