PASSWORD: *******
PASSWORD ACCEPTED, LOGGING IN:
Name: Angelica
Chuck Norris
Norrie
Nicknames: Angie (Usual), PA (thankusora), Ange, Angelika (notkidding), Ange, Pooh Bear (ONLY A FEW CAN CALL ME THAT >:C), Polar, Ge (Its short I know), PEDOPOLAR (AHAHAHA), Waffles (LoZ plz), Waa (LoZ did this)
Age: 14 (and 144 days and counting)
Gender: Must I answer?
Personality: Happy-go-lucky, random, annoying, weirdo.
Can be, but doesn't want to be: Emo, sadistic, problematic, anti-social, un-loving, etc.
---
ROLEPLAY ACCOUNTS:

((LoZ RP))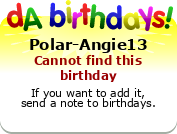 Current Residence: A big shoe
deviantWEAR sizing preference: medium
Favourite genre of music: too many
Favourite style of art: anime
Operating System: computer
MP3 player of choice: cellphone
Shell of choice: RED crabshell
Wallpaper of choice: stars
Skin of choice: tan