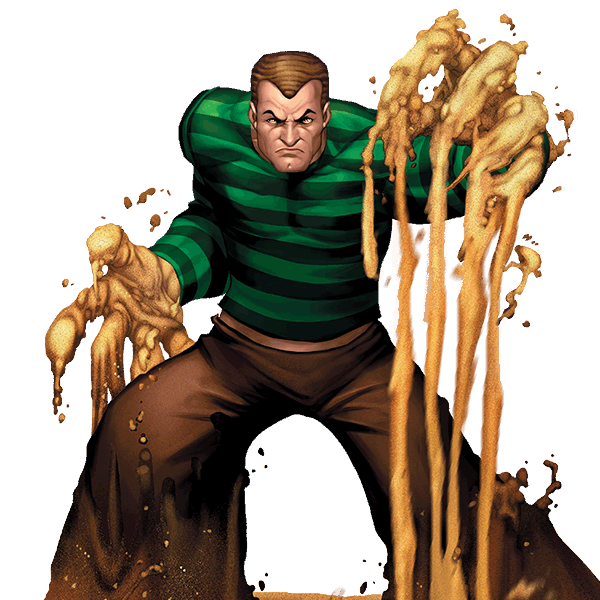 THE SANDMAN:
First Appearance: The Amazing Spider-Man #4.
Species: Human... albeit one made of sand.
Height: 6'1" in his normal state.
Weight: 240 lbs. in his normal state.
Age: Not Specified.
Hair: Brown.
Eyes: Brown.
Occupation: Professional criminal, former adventurer.
Alias: William Baker, Flint Marko, Sylvester Mann, Quarryman, Mud-Thing.
Theme:
Feats:
-Regularly tangles with Spider-Man, and is one of his tougher opponents.
-Survived the massive radiation dosage that turned him into the Sandman.
-Has fought against heroes like Captain America, the Fantastic Four and The Hulk.
-Was a member of Silver Sable's Wild Pack and the Avengers at one point.
-Almost covered a city in sand.
-Was one of the original Frightful Four and Sinister Six.
-A professional criminal even before he got his powers, even evading the FBI for some time.
-Helped the Avengers defeat Morgan le Fay.
-In an alternate universe, killed Spider-Man... in an extremely gruesome manner.
-We don't like to talk about it.
Powers and Abilities: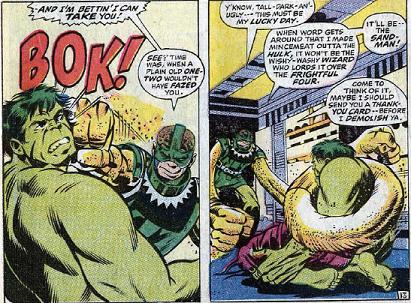 Superhuman Strength:
-Can lift anywhere from 20 to 85 tons under standard conditions.
-Traded blows with the Incredible Hulk and the Thing.
-Strength can vary depending on the amount of sand absorbed.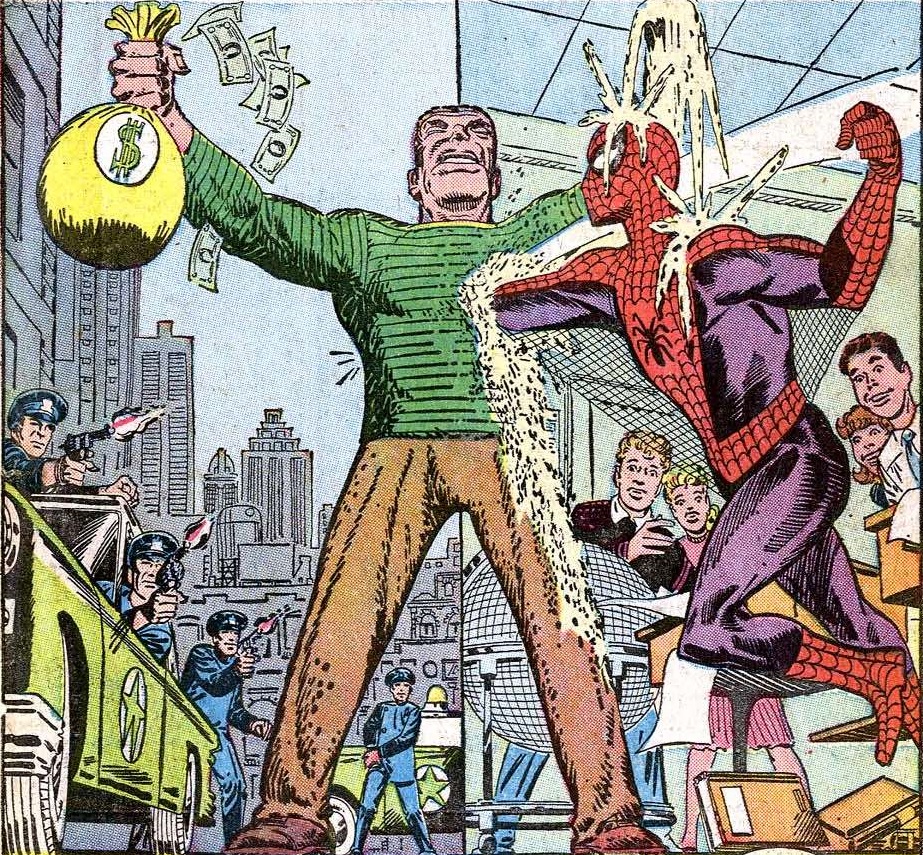 Sand Body:
-Entire body composed of malleable sand.
-Can control each individual particle of sand in his body, even when separated from him, via his brain.
-Sand functions like normal human flesh, and can take that appearance or that of a complete sand form.
-Can display human traits such as eating, breathing, bleeding, fatigue, and capable of feeling pain (depending on his current form or mental stress).
-Can manipulate his body's density freely.
-Can make himself extremely hard or disperse himself to make him immune to physical attacks.
-Capable of converting entire parts of his body into sand.
-If his body is damaged, he can easily heal by reforming his scattered grains or absorbing more sand.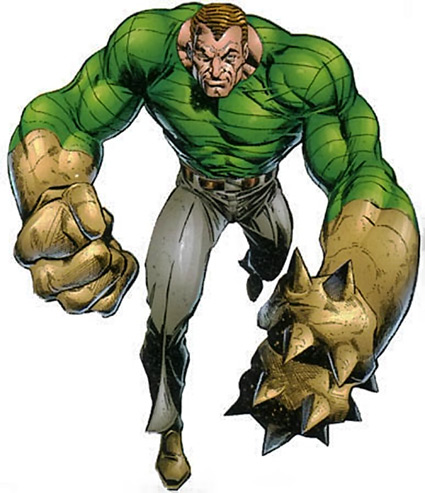 Shapeshifting:
-Can convert his sand body into any shape he can imagine.
-Tends to go with hammers, fists, giant maces, y'know, the basic stuff.
-Can impersonate people and animals.
-Capable of stretching, elongating, deforming, expanding, flattening, or compressing all or portions of his body at will (a la Mr. Fantastic).
-Can phase through objects in a sandstorm-like form.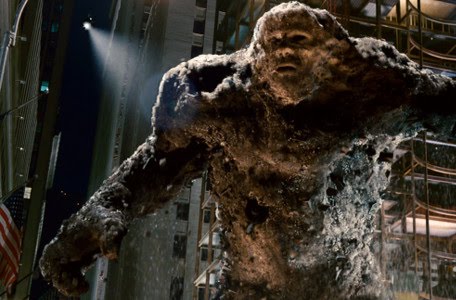 Size Manipulation:
-Can stretch out his sand particles to make himself larger.
-Maximum size, strength and volume increases the more sand he's absorbed.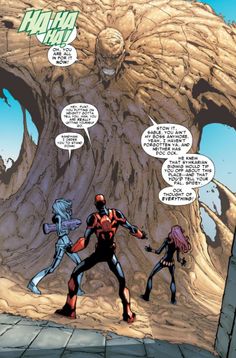 Sand Manipulation:
-Can control any sand he comes into contact with.
-For example: If he's in the Sahara, he has an entire desert under his control.
-Can project his sand outward at high speeds to fire sand blasts.
-With large amounts of sand, can create sandstorms.
-Can convert grains of sand around him into portions of his body he's lost.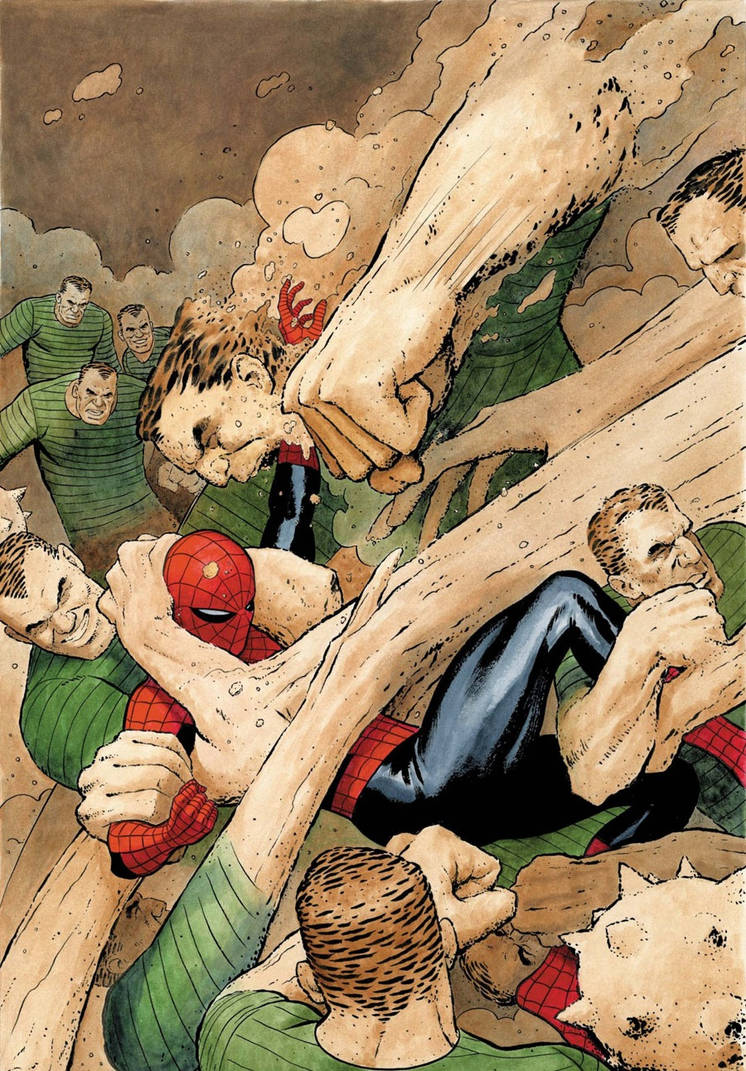 Sand Clones:
-Can create more bodies of himself with sand.
-Amount of clones he can create depends on the amount of sand he has.
-Each clone is just as powerful as Sandman in his standard state.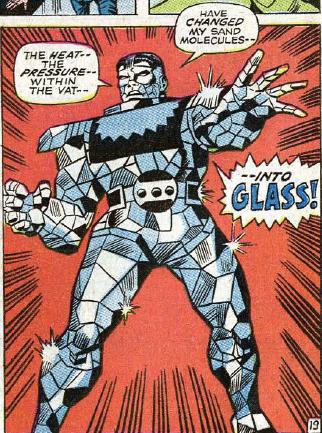 Glass Manipulation:
-Can alter the formation of his sand particles and turn them into glass.
-Can manipulate his glass form in this state.
-Can reflect light and energy off of his glass.
-If he is turned into glass via extreme heat, he cannot control it.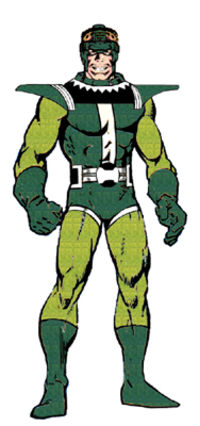 Chemically Enhanced Suit:
-Made from stolen technology from Reed Richards.
-Mixes chemicals with his sand to create new effects.
-Can turn sand into a slippery puddle.
-Can solidify himself even further into a brick-like form.
-Can allow him to stick to vertical surfaces.
-Can coat him with a substance that turns his sand into a poisonous powder when heated.
-Looks kind of silly.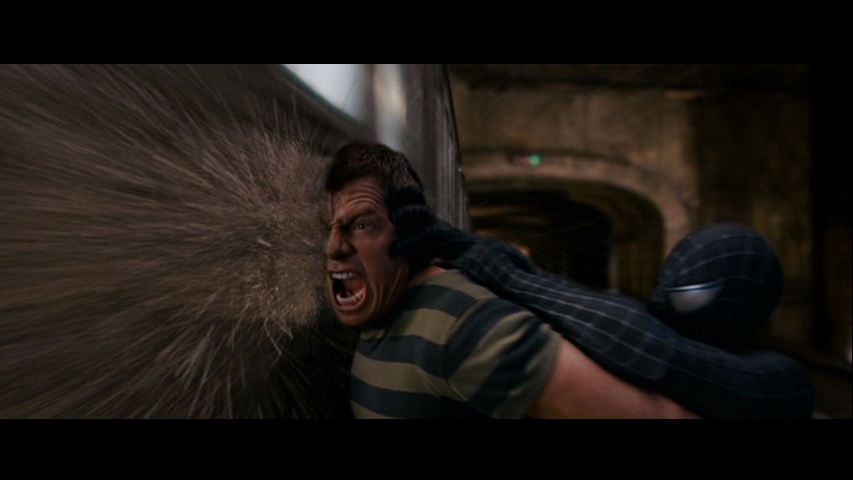 Weaknesses:
-Not the sharpest tool in the shed.
-Water.
-Sand form can be hurt if turned into mud.
-Mud form also greatly decreases malleability.
-Being overwhelmed with water will deconstruct his form.
-Extreme heat.
-High enough temperatures will turn him into glass.
+In his defense, he has fought the likes of the Human Torch before.
-While sand has not been directly manipulated against his will, it has been implied when exploiting specific tactics.
-See "Pink Hippo app."
-Seems to have more difficulty regenerating from poison attacks, particularly acid.
-'Queen Bee' Particle.
-There is a single grain of sand within Sandman that contains Sandman's brain waves.
-Controls all other sand particles that are a part of him.
-Should it be compromised, Sandman will no longer be able to retain his form.
"
I'm not a bad person. Just had bad luck."