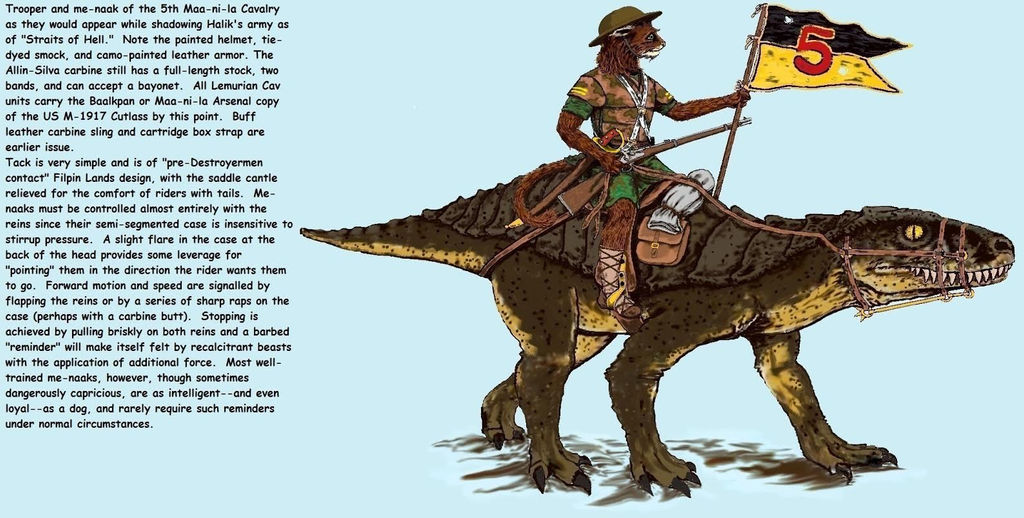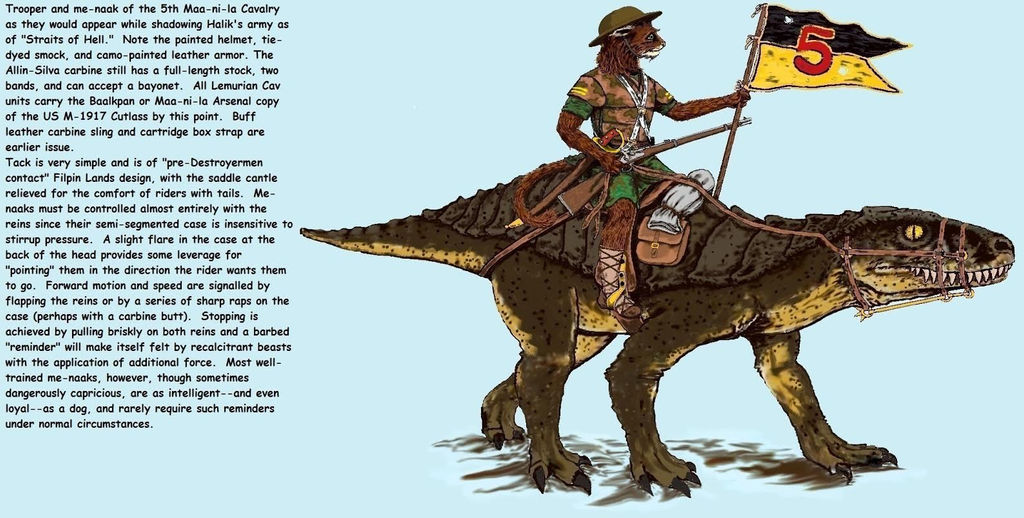 Author Taylor Anderson of the Destroyermen Series paining showing one of his Lemurian troopers astride a Me-Naak a reference work of the author's vision for you fan artists. (C) all right reserved by Taylor Anderson. Posted with permission from following E-Mail
On Thu, Jul 23, 2015 at 6:15 PM
Taylor Anderson to me
Cool Charlie. And I sent the permission. Look below:
...
Sure, you have my permission to post the picture of the 5th
Maa-ni-la Cav-'Cat on the Deviant Art site


Taylor Anderson is starting a program of consulting with Fan Artists who want to contribute to the visual interpretation of his "Destroyermen" world, faithfully enough to his vision that it will be considered the definitive image of some creature, character, or event from his story (until a better one comes along. Competition is a good thing.) You can provide a link to the art, but can't submit an art file until he answers your E-mail. You can contact him here:
www.taylorandersonauthor.com/i…

If your art is given "Current Official" status, and Should a later companion book with art be published, your acceptance of that status means that your art may be used in such a book. If so, you will be credited as the artist who created or conceived the image, but you surrender your rights to Taylor Anderson so he can use the art, or a reinterpretation of thereof. You can draw and post anything (pertinent and tasteful) that you want, but by making submissions for consideration for "Current Official" status, you accept the above conditions, and affirm that it is your ORIGINAL work.
You may still sell your art on DeviantArt if you wish.



IE the deal is that Taylor Anderson, for helping you faithfully interpret his vision of various aspects of the Destroyermen world, and accepting your images as "official" interpretations, is given permission to use them if or when a Destroyermen Companion is published. Should it be published, you as the artist can then point to a published, credited work. The very least you get is experience working with an author to bring his imaginary world to life, and that might make a good bullet point on a resume.

You may post your work on any site that you can link to, as a suggestion make your art work a png file, such as here on DeviantArt, you may consider posting on the Destroyermen Wiki and as you replace older art with newer editions, a dated record is kept. I suggest you register to keep your routing information out of sight if you post or edit. This is a link to the photo gallery where you can see other works, including Taylor's: destroyermen.wikia.com/wiki/Sp… I'm the main Admin so if you have any Wiki questions about posting and replace I'm usually around. Put your questions on my message wall, I'm Pokermind on the Wiki too. Your posting on our wiki is permission to use the art in any of our articles, what we get out of providing you space for art and dated revisions.



Like many artists who attempt to portray Lemurians, you give them the small braincases of actual lemurs or felines. Wrong. No frontal lobes, no sentience of the kind Lemurians have. Sure, Anderson created behaviors, customs, and languages that seem unusual to the crew of the USS WALKER, but these differences are no greater than differences between human cultures. He gives them human intelligence, so they need large braincases in order to accomodate the necessary frontol lobes.
Now if you want to engage in a debate about the nature of intelligence, go right ahead. I make no claims to understand what "intelligence" really means in general. I say these things about Lemurian braincases because Taylor Anderson defined the intelligence of the Lemurians as Human in nature. For all I know, cetaceans are sentient without the benefit of same frontal lobe proportions as ours. But no one describes that postulated sentience in terms of human sentience - because it cannot be done. Cetaceans are not human. Lemurians, however, are.
Now I see that Taylor Anderson has given you permission to post your artwork. And the drawings are very well done, don't get me wrong on that topic. You do fine work. But if Taylor Anderson conceptualizes the animals he himself created as having feline or lemur-size braincases, then he's wrong too. I didn't jam human sentience into the small braincases of non-human animals. He did.

Now here's one by glorius_system right here on Deviantart. Glorius_System gets it right, with a human-sized braincase. My apologies if I botched the spelling on the username.
And here's a good example, approved by Anderson, that gets it wrong nonethless. In your rendition you basically just put a hat on this impossibly small braincase:
Reply

You make good points for a larger brain case. But I must correct you the two arts this one and the Wikia one were in fact the work of Taylor Anderson not mine see
www.taylorandersonauthor.com/d…
not all works are his but most are. You may wish to copy your critisim and the suggested art to Taylor Anderson if you click on Taylor and then contact you can send him a message on his Author's website.
Reply

the face looks VERY feline.
Reply

They're not called 'Monkey-Cats' by the Destroyermen for no reason.
Reply

Reply

You might include a mention in your next post on Taylor's site he's the artist, and everybody needs a stroke now and then.
Reply