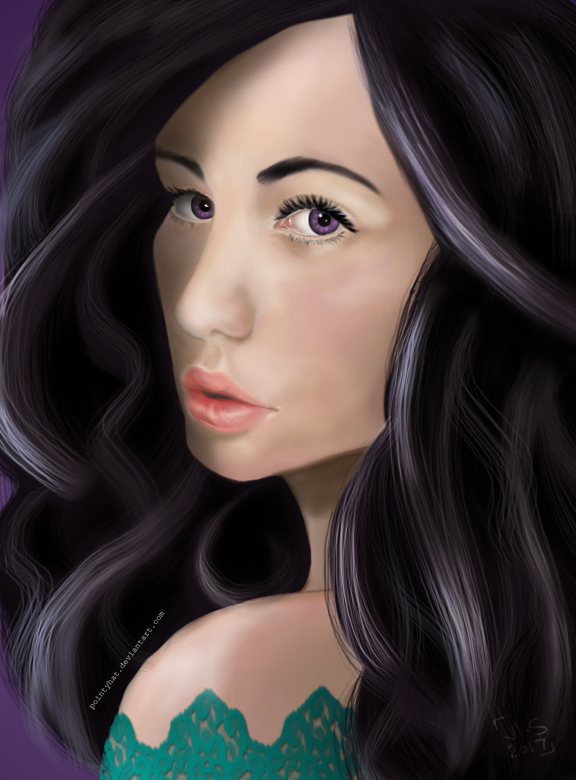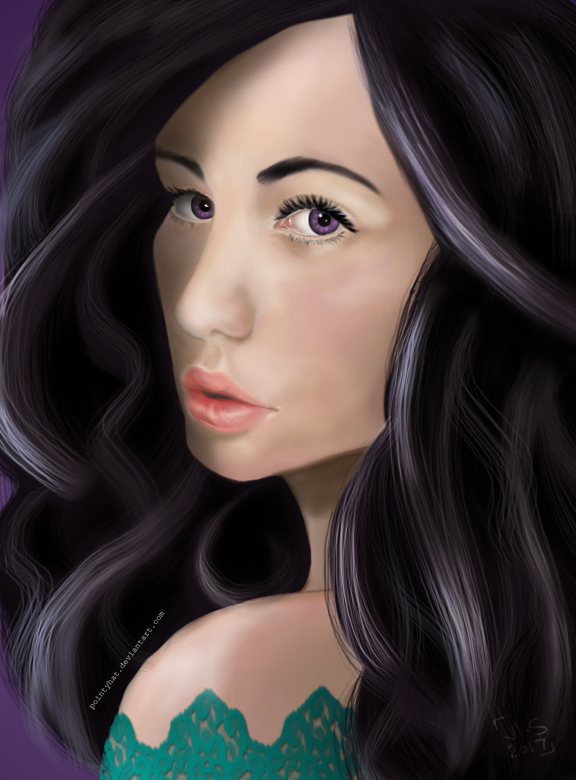 Watch
There's a bit of a story behind this one, guys. I started this project over a year ago, and I was determined to get it looking PERFECT. Well, as we all know, in art there is no such thing as "perfect", there is only "satisfied". But even knowing that, I went into this project with the intention to make it the best digital painting I've ever done. What happened was obsessing over details, tweaking this, tweaking that, getting fed up and setting the piece aside. Then I'd get a commission. Then I'd take a break from the piece. This cycle continued for a year before I finally said, "I
must
finish this painting!" And it took me three days to finally sit down and do it, but I did.
So here's the finished piece, and though I know it's far from perfect, it IS satisfactory (to me). I present to you Anwen, who is a character I've been RPing with for years.
Constructive feedback welcomed! Redlining is okay, too! I definitely want to keep improving, so anyone who has anything helpful to say, please do!

--------------------------------
COMMISSION INFO SHEET
--------------------------------
Other Digital Paintings:
Your comment that perfection doesn't exist is a commendable philosophy to have. Beauty is in the eye of the beholder and not everyone finds the same thing visually appealing. The face of this young woman is neutral: she is not smiling nor frowning. But she still looks very pleasant. If there's one nitpick I have with this drawing, however, it's just a minor one, but the decision to only show one breast is a bit distracting to me. It just makes the woman look that she has a rather fat body with a small head, but that's just me.

Good effort!
The Artist thought this was FAIR
1 out of 3 deviants thought this was fair.
I have come from ProjectComment to give this critique to you!
To start this off, I have to compliment how lovely the details of her hair are! The swirls of greys lets you feel the curly, but soft texture of her hair without actually being able to. You can tell that she is a very beautiful woman, especially from her soft pink lips, round nose, and clear skin. The iris of her eye was wonderfully detailed, adding to her beauty. The chosen colors of this piece mesh together well and don't interfere with her elegance. Although this is a beautiful piece, there are a few things here that don't fit right.
The eyes appear to have two different sets of eyelashes. Consistency is a very important feature of art. When choosing which style should be used for both, I recommend going with the left eye over the right eye as it seems to have the more detailed look you're aiming for with this piece. The shading of the left part of her face is slightly off. It looks as if you were trying to add a bit more texture to the face, but while doing so messed with the shading. A fix to this problem could be to blend the colors in those areas together more so the shading looks even. The gap between her lips could be a bit darker, which would give them a more natural look. The lace of her shirt feels as though it could use more shading too to show off the details of the shirt. However, the major problem of this piece is that it's hard to tell what the expression of the character means. Is she just trying to look beautiful or is she curious? How does she feel about what she's looking towards? This could be conveyed better by a raised brow, or a small dilation of the pupils.
In conclusion, you were able to successfully show off the features and the beauty of your character although some aspects of her were unclear. I hope this feedback was of use to you and that you have a nice day! <3
The Artist thought this was FAIR
2 out of 3 deviants thought this was fair.

Reply

Yeah we addressed that fact in my reply to his review.

Reply

Yeah, we established that. You're a bit late to the party. 😂
Reply

fantastic job

Reply

Hi ayo. i'm also
here from
ProjectComment
The painting is quite good. The shape and anatomy of the eyes are very accurate and realistic. A good expression on her face too, very seductive
Now I"m a sculpting guy, with only 2 years of art school. So take my painting suggestions with a grain of salt.
The main thing, and this relates to what crestego said, is the lighting. I don't know if you used a refrence image, but the painting could benifit from a sharper contrast between light and dark and crisper definition of form.
Take a look at this painting by will wilson
willwilsonart.com/wp-content/g…
See how he has nice strong shadows to contrast with the light hitting the models face? If you look at the painting in greyscale you'll also see how dark the shadows are. This effect draws the viewers attention to her face and gives a sense of depth.
Relating also to the lighting don't be afriad to make the colors on the face crisper. if your proportions are correct then it will look fine.
take a look at a painting by lucian frued
s-media-cache-ak0.pinimg.com/o…
He treats every diferent color as a diferent plane, but it still works since he has correct proportions and form.
Now you don't have to be that extream, but by using sharp lighting you will make the character more eye catching and the painting more confident.
Anywaaay, thats just my two cents.
Reply

Hey! Project comment here as well. This is a beautiful piece. The anatomy is really well done, the eyes and her face are all really proportional. Her hair is very voluminous and indeed very pretty! One tip though, is to add more prominent lines to her face. Maybe put darker lines to show distinction. You don't have to take my advice lol, this is already a beautiful piece as it is. Anyway, have a nice day!
Reply

Thank you! Contrast in my paintings is one of my biggest problems. I'm always afraid that the shadows will be TOO dark, so then I tend to lighten it up too much. I actually darkened the shadows I already had here after I'd finished the majority of the paintings, too. It's something I'm trying to correct. Thank you for the examples and your feedback.

Reply

Strive for "being better", perfect is a cruel goal people will never get through. The portrait is beautiful and impresive as it is, I really like the detail on her lips and the strands of hair rather naturally spreaded around!

Also, the small part of her dress that can be seeing is realistic as it gets!
Reply

Yeah, I know it's unrealistic of me to want it to be perfect. I do try to improve with every painting I make, but in my head I had this idea of what Anwen should look like, and come hell or high water, I was going to achieve that!
lol
Anyway, thank you for your comment! I'm glad you liked the portrait.

Reply

Ayo i'm here from
ProjectComment
and I saw this beauty pop up, so I figured i'd give some input.
What can I say? This is a pretty fabulous piece of work here! Her hair is extremely well done for a digital painting, and just that teal pop of color is really nice. She'd be a beautiful gal to meet IRL too, with a sexy facial expression to reel you in.
With that being said there's a few points that you could improve on in the future. The lighting itself is dead-on for the most part, but it's laid on just a tad bit too-thick, so it looses the illusion of light and more of a facial smudge. Her face is also one of the few instances where her eyes are actually the correct size, but her nose and lips are a bit bigger than what they need to be. Now some people do have big lips and big noses, but to me it looks more like a proportion issue rather than being a part of her facial structure. With them being that big, it makes her eyes appear smaller than what they actually are, which makes her face appear kind of awkward.
I hope this comment helps!
Reply

Thank you! Getting opinions from someone who has never seen this painting before always helps me pinpoint the tiny details that I overlook.

Reply