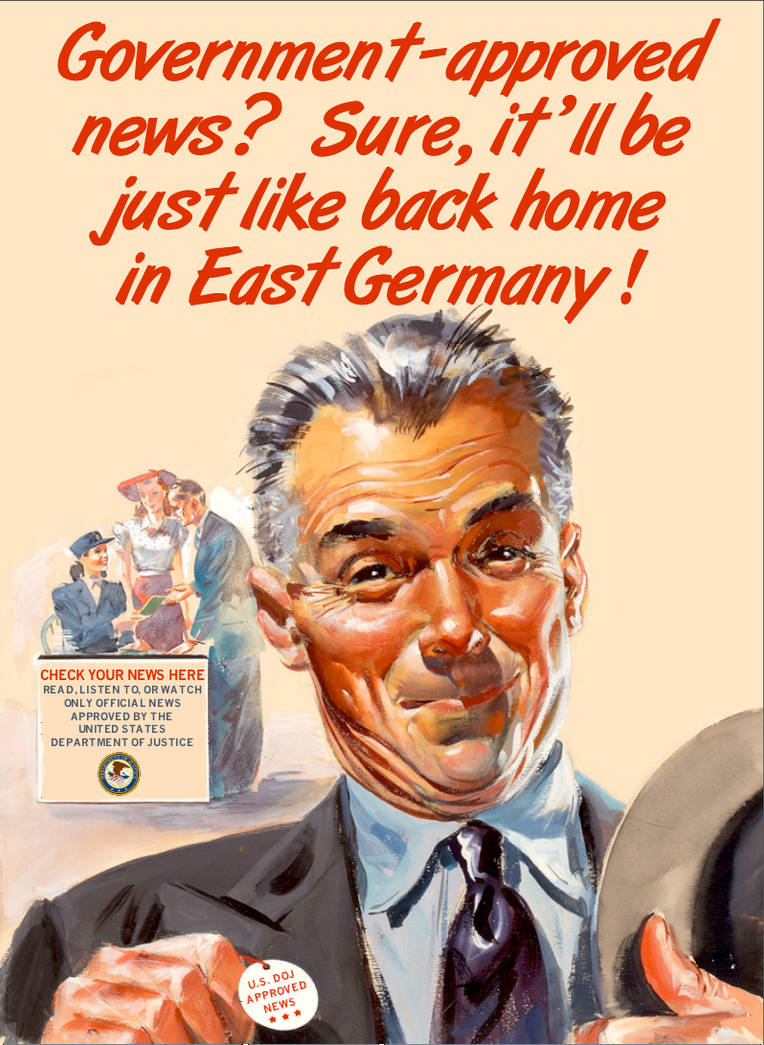 Watch
Please disseminate widely, thank you! This does not give permission to alter or claim credit for this re-mixed work, for which I retain all copyrights. The original illustration is in the public domain.
If you disagree with the views expressed here, please be sure to read my Policy Statement BEFORE you post:
[link]

Faux "News" has an ally in Sinclair Broadcasting, who won't allow anyone critical of tRump on the air to even try to rebut. They're cheerleaders for an authoritarian admirer of tyrants and the oligarchs who benefit most from his misrule.
Reply

Wait. Isn't that what we have had from mainstream media these last couple of terms?

I can't believe there are still some people on the left who haven't noticed that they are already being given exactly what they voted for, a Marxist-leaning transition Administration to a proto-Communist system.

By the way, I love how seamlessly you've converted that old poster. Beautifully done. I might not agree with the message, but I most definitely appreciate your skills.
Reply

To be honest, government news can be a whole hell of a lot better than the crap private news corporations spews out. Fox news. Do I even need to say more?
Reply

At next, they will tap your phones and internet connections on suspicion.
Reply

I don't live in the U.S.A but is this really going to happen to you guys?! That's horrible! Don't you have sub-channels where you can get real info rather than Fox news and such?
Reply

I'm exaggerating to make a point about the government getting involved in the news business by spying on reporters.
Reply

You are not exaggerating at all. This is how things might end.
Reply

Gawd. At least you're exaggerating, but I do suppose that's how it works in some countries. And awesome work btw!
Reply

This is how we fall, ladies and gentlemen. When the government has more power than the people they need to survive.
Reply

For a moment I thought that was J. Jonah Jameson.
"Sir, don't you think the public has a right to know about this?"
*
Epic laugh
...and then pause*
"You serious?"
Reply

Reply

Reply