Welcome to Pokémon Mystery Dungeon: Unity!


Want to join the group? No problem! The group is always open, so people are more than welcome to join in whenever they like! Just hit the Join button, and you'll be automatically accepted.

New members should look over the journals listed below to learn more about how the group works:


Once that's out of the way, download one of the applications located in the References and Resources folder and begin filling it out with your team's details. Then, simply upload the application to your gallery and submit it to the corresponding Recruits folder as well as to the Andalusst Atlas, and you'll be ready to participate in the group's events. Good luck!



Affiliation Status: Closed
---
CURRENT STATUS


Edited August 8, 2015, 3:47 PM GMT-0
The new tasks for the Cactus Fields are out!

Edited March 1, 2015, 12:00 AM GMT-0

The Basalt Halls Dungeon is now over! Thank you to everyone who got their entries in on time!

A note for members: If your Dungeon entries are not on the Atlas yet, please submit them as soon as possible so we can properly tally up the Storehouse numbers! Depending on the results, we will hand out Star Coins and/or release some new accessories accordingly as soon as we're done checking entries.

Edited February 27, 2015, 11:36 PM GMT-0

A quick reminder that using PMDU as a platform to call out or otherwise harass a member you have personal issues with is not acceptable.

Anyone caught submitting entries for the sole purpose of chewing out another member will be looking at possible suspension. Members posting with backlash responses may also be looking at possible suspension, depending on the severity of the offense. Someone harassing someone else does NOT give you the right to harass them in return. Please keep dirty laundry out of the group, especially if the aim is hate mongering.

On that note, if you're being harassed or bothered persistently by a PMDU member, please come to the IRC and talk to an admin, or send the group a note.

Edited February 3, 2015, 11:32 PM GMT-0

Attention, PMDU members! After some deliberation, we have decided to extend the Basalt Halls Dungeon event! The new deadline is now three weeks past the old, at February 28th, 11:59 PM GMT-0. This will give members a fair bit more time to work on their entries, so don't let it go to waste! Let's see some more great entries from our amazing community! Good luck, everyone!
---

Andalusst Atlas
Member submission to the Atlas is mandatory for group participation. This off-site database allows admins to check through member's submissions in a more organized manner while taking the load of keeping track of inventory off of members' shoulders.

PMDU Wiki
The go-to place for members to locate all types of information related to the group. NPC profiles, location overviews, and past events can all be easily located here. However, being a Wiki, there will generally always be information needing to be added, so please bear with us as progress is made.

PMDU tumblr
This is where you'll find tidbits on upcoming content, extensive Q&A about the setting, and other things relating to PMDU's production.

PMDU chatroom (IRC): server - irc.rizon.net / channel - #pmdunity
Kiwi IRC link

This is where the mods hang out. Got questions? Need help? Or just want to hang out with other members and talk? Then join us on the PMDU IRC
---
Current Story
A Path to the Desert (Page 1 here)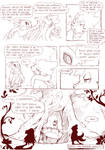 Latest update: Page 19 (FINAL), Nov. 28