Go check out HipsterOwlet's Bendy Plush giveaway! She is generously offering an awesome handmade Bendy plush

Here is the link to the Giveaway page!

Chapter 3 Bendy Buddy Plushie Giveaway!As I promised, here's your second chance to win your very own Bendy Buddy Plushie in celebration of the third Chapter!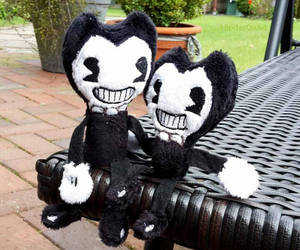 You can win the Bendy on the right! National & international shipping is free!
How to enter
1. Read the rules and infos first
2. You have to watch me
3. Write a journal with a link to this journal
4. Write a comment with the link to your journal
This Giveaway ends on October 12th, 6pm CEST!
Good luck!
Rules and info:
- Only ONE Bendy will be given to a winner on DeviantArt
- The giveaway ends on May 7th, 6pm CEST. If the number drawn will not answer within a week, another winner will be chosen.
- This giveaway is a raffle. The winners will be chosen through random.org.
- If you are underage, you can not take part in this giveaway. Please ask your parents to take part for you.
- This plushie is a prototyp