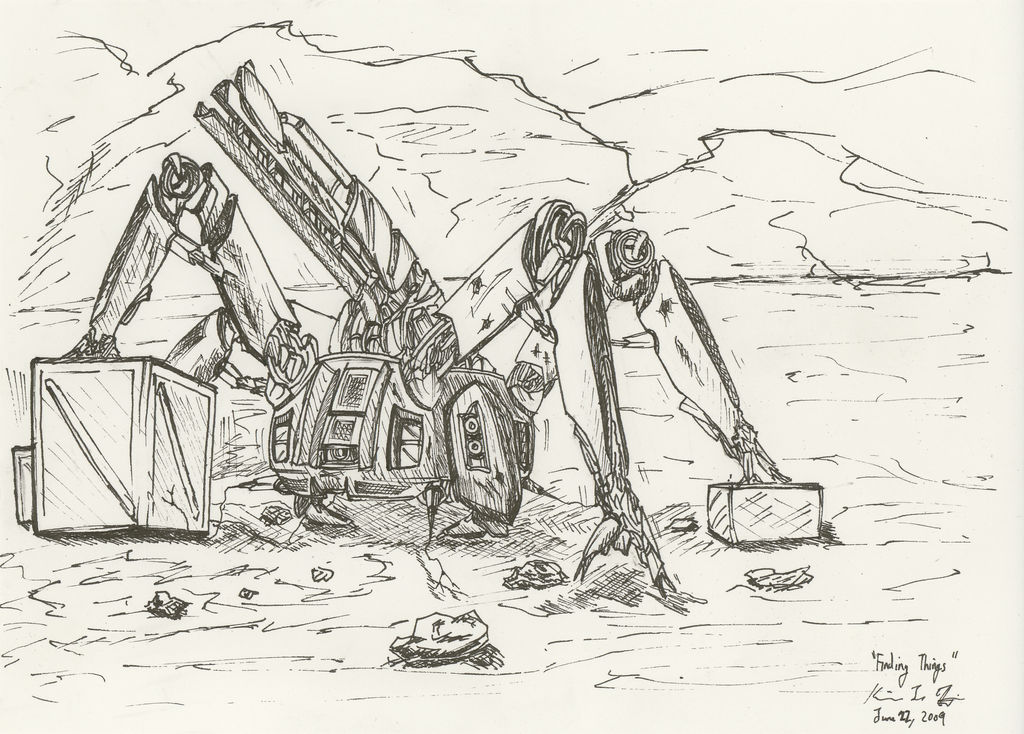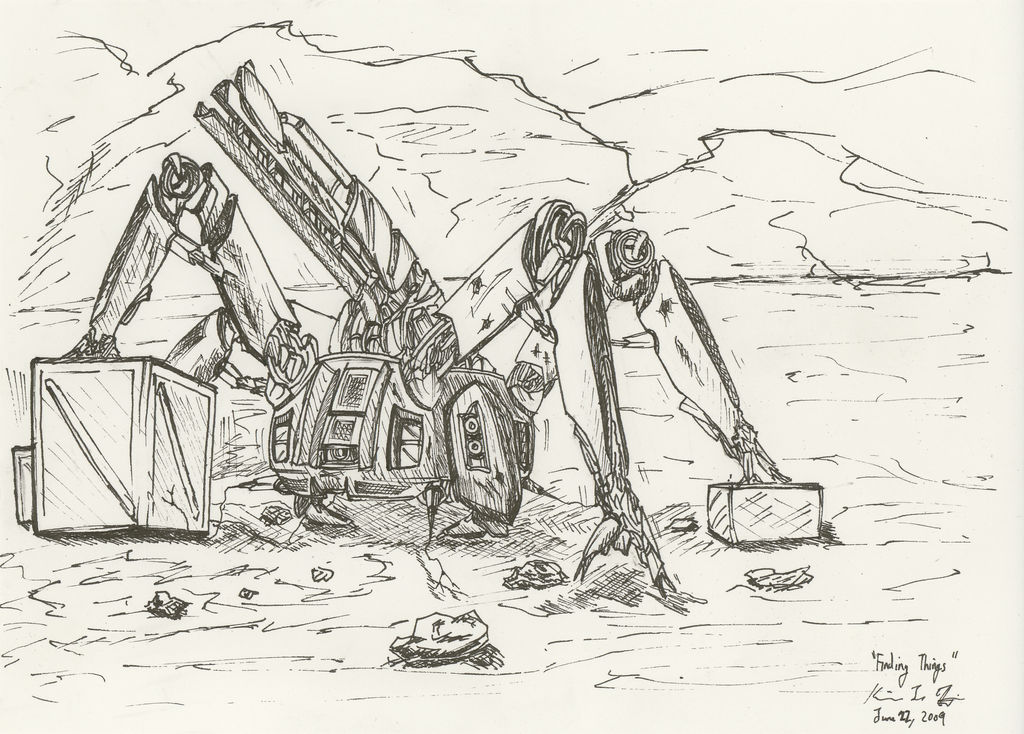 Installment 23: June 22, 2009

I forgot how much fun (and sometimes, how daunting) technical pens can be until a week ago. They're definitely some of the most demanding drafting tools ever invented.

Good stuff. I would assume that these typical joints are being used right now in mech's? As a matter of fact, companies are using mechs for other utilities. Here's a link to show what I mean:
[link]
But off course there are other Mechs out there. But what Mech manufacturers need to realize that if they were to move efficiently like humans, you GOTTA USE HYDROLICS!
Reply

Yup, that's a great video of what multilegged mecha can do in real life. And I do agree, something like hydraulics or synthetic muscle fibers, or anything that can create a mechanical movement advantage (3rd class levers), will help them move faster and more efficiently. Compared to large rotary motors, linear actuators may also create a great deal more usable force when positioned and driven properly.

It's surprising what we can derive from nature, isn't it?
Reply

Indeed. Nature is the perhaps the most ingenious invention! Biological life tends to assimilate better than any tools than man has created, no matter how advance, weaponized, or integrated they are.
Tell me more about these "3rd class levers"? I assume you must have VAST knowledge of mechanical applications and systems, and perhaps even electrical as well! HAHA!
As for weapons, perhaps you can help me with a dilemma! Look at my gallery and see the guns that I have? Could you help me understand the mechanism more well? Here's the link to the image:
[link]
I can see how gas from the fired bullet pushes "some" lever back to eject the fired cartridge, in which the lever springs back into place to reload a new bullet and firing it. But how the more intricate items work nearby the housing unit and trigger is still a puzzle to me. I mean, does the trigger just keep the mechanism "rolling" automatically while "pulled back?" Thanks.
Reply

Unfortunately, I don't know a lot about handheld weapon operation, particularly automatic
gas-operated firearms
. But what I do know right now is that yes, for most weapons of this type, the trigger's main job after releasing the first round is to either stop or allow the loading/striking mechanism to keep firing subsequent rounds.
I'm personally doing some research on this subject when I can. We'll see and learn as we go. Hope that helps!
Reply

Indeed. I too will research hydrolics and rotary joints! But perhaps we should all learn from our very CARS! You'll be surprised how such mechanics are learned from cars and aircrafts!
Reply

Curious where you got the inspiration for it. It seems almost...insectoid. In fact, the knee joints almost look, familiar somehow...

Anyways, great work, and amazing hatching regardless. I know how difficult hatching with pens in general can be.
Reply

Eh, I was thinking of drawing something different that day...something non-bipedal.

"In fact, the knee joints almost look, familiar somehow..."

You'd be right, in fact! Those are the usual disk-and-slot joint caps, often found in Gundam (and other common humanoid) mech designs. I call 'em "lazy joints," and it's due to a lack of ideas; honestly, I need to do a study on real-world joint parts so as to avoid using these and other cliché components in the future.
Reply

Lazy joints? What does it mean "disk-and-slot joint caps"? Is because the knee joint, or knee cap, is a disk that fits into slots that connect the appendages together? Perhaps I'm using the word "appendage" wrong? But what I interpret this term is basically two segments connected to a disk to ennact rotary, or "bending", movements.

As for the image, looks great! At first I thought this Mech's function was to mine the crust using a laser cannon. HAHA!
Reply

Thanks for the tip! Patience is probably one of those prerequisites for using pens like these...

Do you have a higher-resolution version of that image? I'd like to see some of the details.
Reply

Nice, kind of reminds me of those raptor-robots from Zoids.
Reply

An armed worker or mobile artillery? Nice.
Reply

I love tech pens.

Interesting mech!
Reply