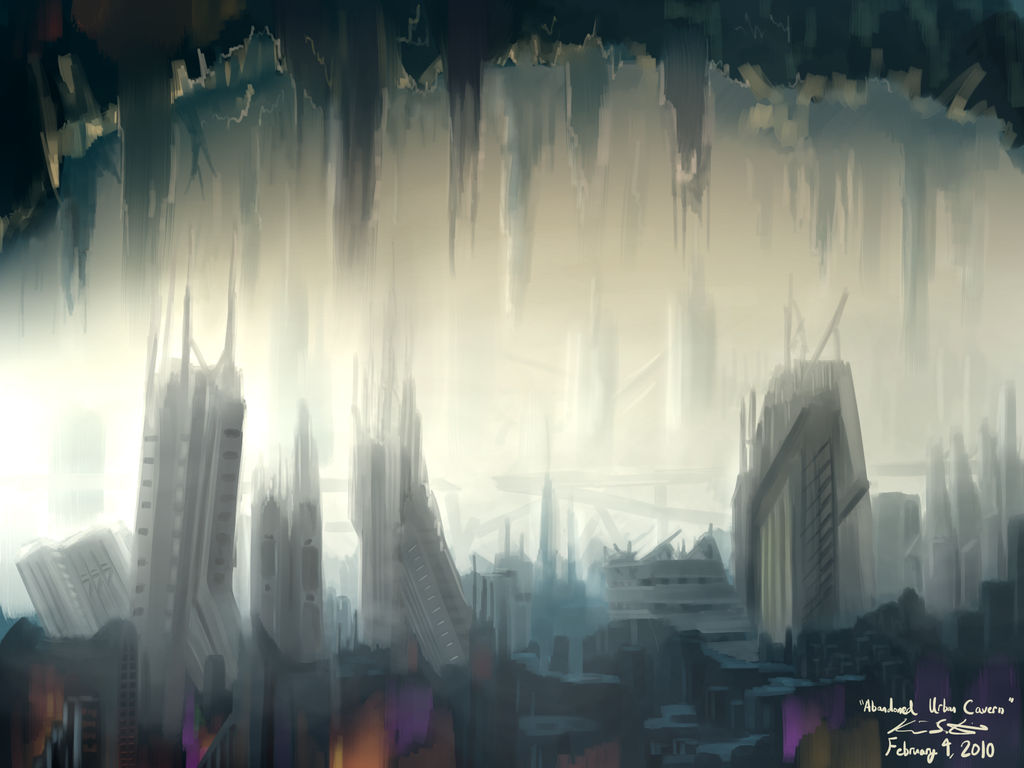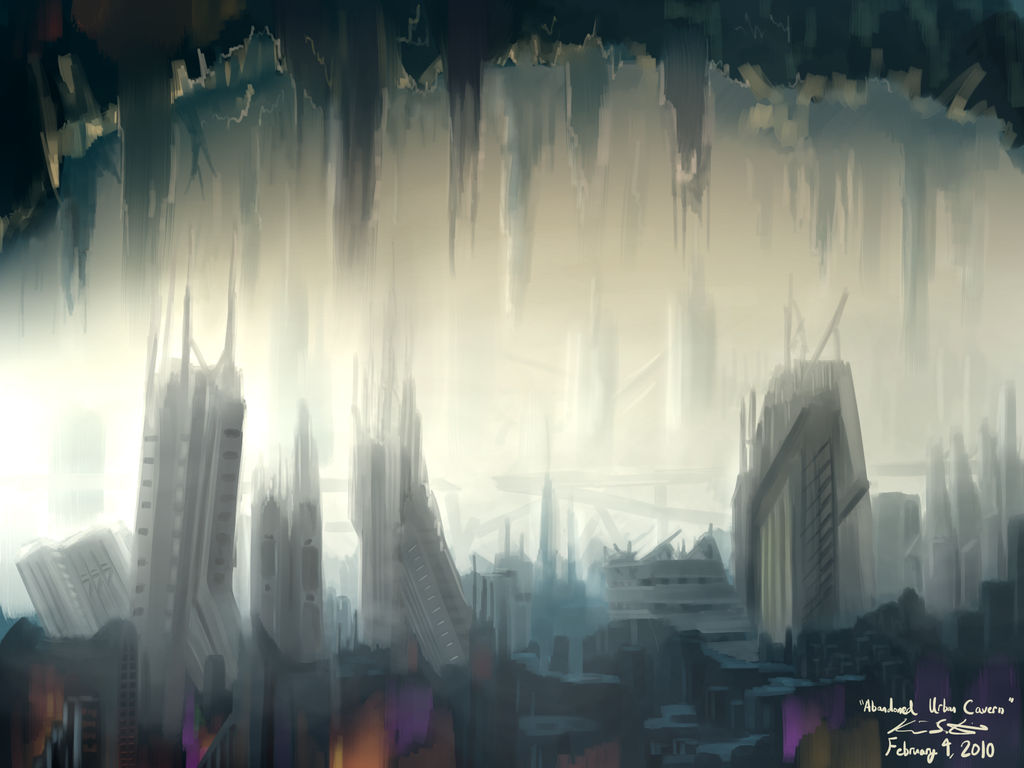 Installment 5: February 4, 2011

I had a thought earlier tonight about an city built in a massive cavern, but still couldn't think of what caused its downfall and eventual abandonment...

Done in PaintTool SAI.

Kev... seriously, that's AMAZING. Like REALLY AMAZING.

That is EXACTLY what I've been wanting to learn all this time. Let honestly, teach me or show me how you do this, you will make me the happiest person in the world.

Or actually, can I just drop by ur place later...? (assuming ur still sleeping since u never wake up till really late...)
Reply

this is stunning great use of color!!! maybe a gas pocket or invasion from the alien force that drove them under ground in the first place killed them..... just tossing out ideas.....
Reply

Oooh...good ideas! I like the gas pocket scenario--perhaps the local drilling team looking for resources made a fatal mistake that resulted in flooding the entire city in an asphyxiating, heavier-than-air gas?
Reply

how about volcanic erosive ground ?

looking nice! i really dig the mood of this piece
Reply

Ah yeah, I should try making a "hotter" version of this with fire everywhere. Thanks, Adam!

Reply

This is a pretty surprisingly good work you've done here. Never knew you could color and paint-stroke like that...hmm, I should use PaintToolSAI more often by the time June hits.
Reply

SAI has some great built-in brushes, and you can create your own as well. The blending/dilution/persistence sliders are quite powerful for achieving an oil or watercolor look.
Reply

Great job, Kevin! I need to do more of these. They help so much in teaching color placement, atmospheric perspective and reflections. I just get frustrated with all the lack of definition in mine...
Reply

Much appreciated, Newton! It's true, these are lessons in frustration at times because, for example, I'm so used to working with lineart and hatching. But tough as it is, seeing other peoples' refined techniques helps us refine our "reverse engineering" skills; I guess that's what makes the time spent all the more enjoyable.

Reply

So...Old New York from Futurama?

Where's all that light coming from, anyway? And how is it strong enough to illuminate nearly the whole space, considering the scale?




....this is why I can't have nice things...
Reply

Wasn't even aware of the Futurama connection there...tee hee...

Yes, the sunlight from the entrance on the left is rather over-exaggerated (another thing to work on). You could say that the fog/dust within is dense enough to scatter light everywhere, though.
Reply