Welcome back to Meet a Space Artist -- an artist interview series
Today I am pleased to introduce an artist that has been a great source of personal inspiration. If you enjoy near-future science fiction or geek out over the state of present day astronomy, this is the man to follow. Mac Rebisz is responsible for some of the most stunning images of realistic space travel on dA, and he's here to talk with us today. Please welcome
MacRebisz
!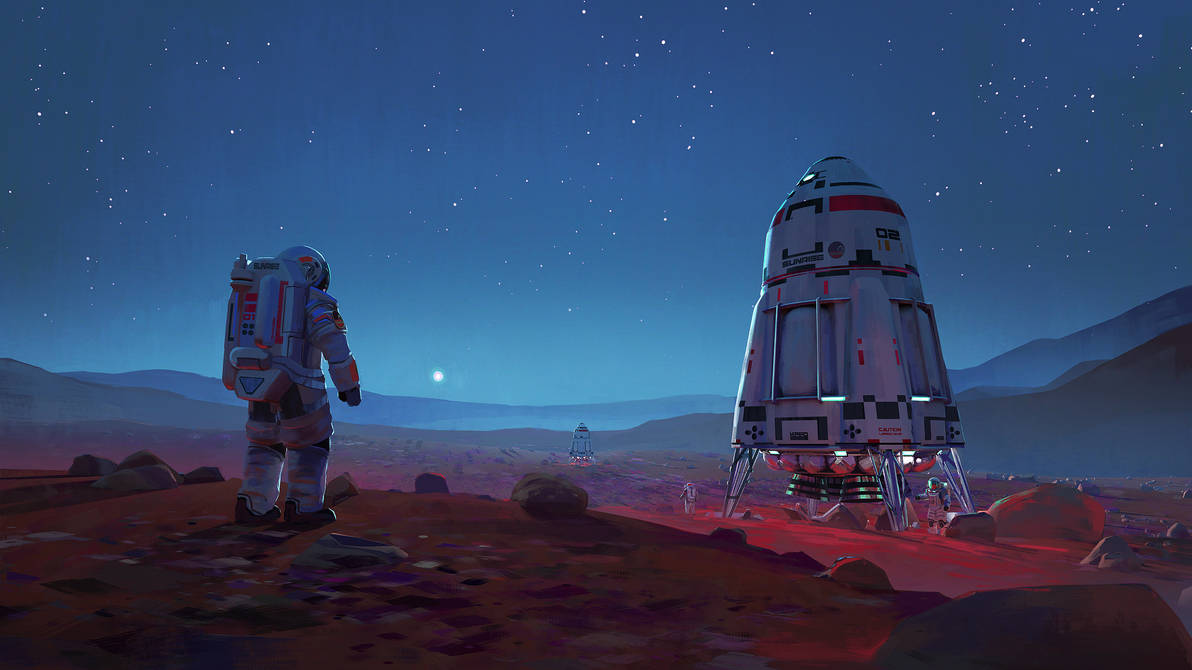 "Sunrise"
Who are you? Tell us a little about yourself.

My name is Maciej Rebisz (Mac for short). I'm a concept artist and illustrator, working for the games and film industry. I'm currently employed at a CG animation and cinematics studio called Platige Image in Warsaw, Poland. In my spare time (unfortunately there's not that much of it) I run a personal project called
Space That Never Was
, where I do a series of illustrations depicting space exploration in the past, in an alternative history, and in the future.
Why space art?
I've been in love with space ever since I can remember. I've always been fascinated by it; the idea of going out there, visiting other worlds, seeing places that no living thing has seen before, exploring the unknown -- for me, all of that was always truly magical. When I started doing more serious art in my teens, it was natural for me to go with space themes.
What space-related fact or phenomena is most fascinating to you at the moment?
There is a lot happening in space exploration right now, with the rise of the private space sector, plans of return to the Moon, and crewed Mars missions. Also recent developments in astrophysics and astronomy - gravitational waves in astronomy, hunting exoplanets. All of these achievements are very inspiring and fascinating for me.
Digital or Traditional?
Digital, mostly. I do sometime use traditional media, but usually it's loose sketching to capture an idea, before moving to digital media for the final piece.
Would you mind telling us what kinds of tools you use, how you use them and your thoughts on them overall?
I use Photoshop for digital painting, and Modo for 3D design of spacecrafts and setting up scenes. Sometimes I use space related applications like Space Engine or NASA's Eyes on the Solar System, where I can check if my ideas are feasible, like certain points of view on and around celestial bodies or lighting configurations. As for hardware, I work on Windows PC, with Wacom Cintiq 27QHD graphic display tablet. I've also recently picked up an iPad Pro with Apple Pencil for sketching on the go, and it's surprisingly good even for doing detailed final work.
"Ambition 1 Ascent" and "Kronos 1 over Saturn's Rings (2/4)"


One thing I love about your work is your depiction of near-future tech, and your focus on individual people or machines. What are your major sources of inspiration here?
It's difficult to pinpoint a single source of inspiration. For me it has always been a great mix of various influences - movies, books, games, artists, even scientific articles and documentaries. I also admire many classic science fiction illustrators from 70s and 80s - Chris Foss, John Harris, John Berkey, Ralph McQuarrie, just to name a few. I also take tons of inspirations from the many nameless NASA illustrators that did all these beautiful technical and concept artworks from the mid 20th century Space Race era.
Walk us through your process, from concept to finished piece.
My process varies quite a bit, depending on the result I want to achieve. Nowadays I make art in two styles - one is a bit stylized, more painterly and the other is photorealistic, almost like faking photos, including all the imperfections and limitations of photographic media.
Both approaches usually start with a 3D model of a spacecraft, to get the design and functionality right from the very beginning.
For the painterly style I don't make very detailed models, I just use them as a general form guide. I paint over rough 3D models in Photoshop, adding light, textures, details. With this style, I do not use any phototextures or photobashing, rarely even any layer blending modes beside "Normal", it's a great fun for me to do all that by hand with just two types of brush - hard textured brush (for painting) and soft large brush (for erasing).
For photorealistic pieces, I render highly detailed 3D models and then I use a mix of different filters, touch ups, some overpainting here and there, phototexturing, etc. I also try to find some real world reference photos, to see what details I need to replicate to achieve that photorealistic feel.
Designing 3D models of space craft sounds awesome! How do you manage to make them look so real? Where do you even start?
To make a realistic design, I need to ask myself some important questions first. What's the function of the spacecraft? What is it used for? I'm a great proponent of "form follows function" rule. Vehicle has to fulfill its role first, before we can get to aesthetics. Knowing technology of real world spacecrafts, spaceflight physics, and going through tons of reference, really helps getting the functional part of the design. Once I have that, the rest is just cosmetics. It's very similar to industrial design process, but of course in art I can bend some rules here and there to get a better artistic result. I have also finished a few courses of spacecraft and space mission design, and orbital mechanics, that definitely helps me to achieve more believable designs.

Any upcoming projects you are excited about?
Beside more or less regular artworks that I do for Space That Never Was, I'm also working on a few large projects - live action short film set in alternative history and two game projects about space exploration. There are also two other cool projects that I am involved in, currently waiting for publication (one with NASA and Arizona State University). If you want to know more, follow me here on deviantART or on my project's tumblr blog -
Space That Never Was
, I will definitely post there any updates on these projects.
What is the hardest part about what you do? (the gotchas)
As with all artworks for all artists - it is getting the right composition, colors, mood, etc. to believably convey the idea behind the piece. Sometimes doing research about the real world spacecrafts can be a bit challenging as well, finding the right reference, schematics, technical papers, somewhere on long forgotten NASA archive websites or even in old forgotten books.
What is the best, or most enjoyable, part about making space art?
For me, every step of the process is very enjoyable, it's really difficult to pick one. I love the initial excitement of doing research and designing the scene and vehicles, then there's joy and relaxation that comes from painting and after the piece is finished, putting the artwork on the internet, seeing followers' reactions, reading the comments, etc., it gives me pleasant adrenaline rush. So, as I've said - I love all the parts of the process.
In what areas are you still trying to improve?
I think that in art there's always something to improve on, in my case I'm constantly trying to improve my visual storytelling, to capture the story in the image and tell it as interestingly as possible.
Any tips for new space artists?
Use tutorials only to get you started or learn a certain technique, but never stop experimenting, don't get caught in processes learned from these tutorials, stray off the path and try new things and you will have a lot more fun and will develop your own unique styles.
Have you done any tutorials, on site or off?
I did a few simple tutorials on dA a long time ago, but I think they're not that good anymore, so I can't I recommend them with a clear conscience. I plan to start a Patreon campaign sometime early 2018, where I will offer process videos and more behind the scenes content, as a rewards for my supporters.
Which of your works are you most proud of?
Usually I'm most proud of my most recent artworks, so right now it's my most recent series, showing Sunrise 2 mission to Mars. But I like it less and less with each day and that's what pushes me forward to make more art that I can be proud of in the future.
What, in your opinion, is your most underrated piece of artwork?
I don't think I have anything in my gallery that's really underrated. If there is something like that, then there's a reason. I try to learn something new from each artwork I make, so when a piece doesn't get that much attention, I try to analyze what went wrong and learn from it.
Which other space artists inspire you?
As mentioned earlier, there are too many to name. They're mostly classic science fiction illustrators of the past century and countless artists working for space agencies in the Space Race era.
Any last words?
Never stop dreaming big and aim high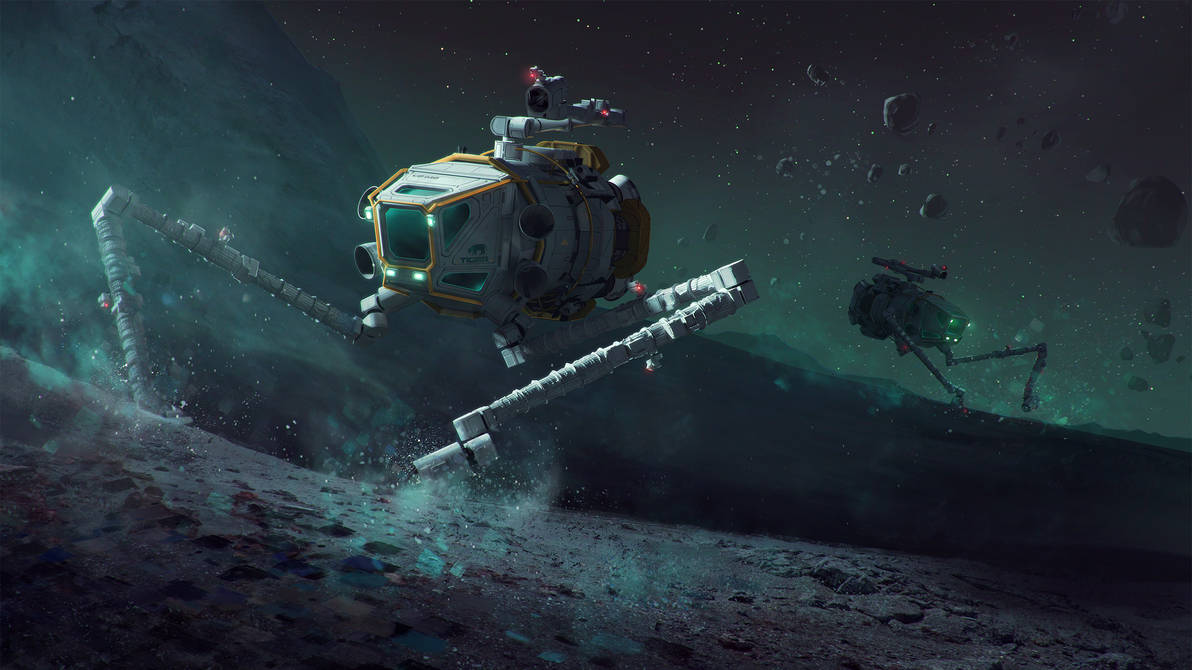 "environment 03" (2007) and "space ship 01" (2006)
vs
"Prosperous Universe: Asteroid Day 2017" (2017)

---
That's it for this week!
If you enjoyed this interview,
p
lease remember to thank MacRebisz with a watch or a fave, and feel free to check out
some of the other articles in the series.
Until next time,