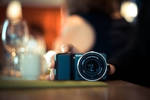 What Camera?
Sony Alpha Nex3 with the 18-55 kit lense basically this is an Slr with the mirror taken out so you have no view finder, however the results are a very small camera with same image quality as it bigger Alpha Brothers A200 300 etc.
Build quality 5/5
May not be the Nex5 with the alloy body but its great feels very high quality and the lense is metal with a metal mount which feels really nice. panell gaps are tight and consistent everything also feels secure and tightly put together
Ergonomics 4.5/5
very good very small much smaller the the EP3 Pen series from olympus and panasonics Gf3 but still has a chunky grip so you know how to hold it and also a rugger brip for your thumb. Some people have had problems with the position of the instant movie mode but not me all good

Image Quality 4/5 (subject to change)
Havent had a chance to test thourghly (going out to test tomorrow if possible) but has really impressed in low light conditions in my house and focusing is well done choosing between auto DMF (it auto focuses and you can make minor changes) or full manual all very nice
Features 3/5
Some great modes including HDR and 3d panorama
Tilting screen really Great
HDMI out mini HDMI cable
xtras 3/5
Free flash
neck strap
and lense hood
Overal 4.6/5 So Far.....