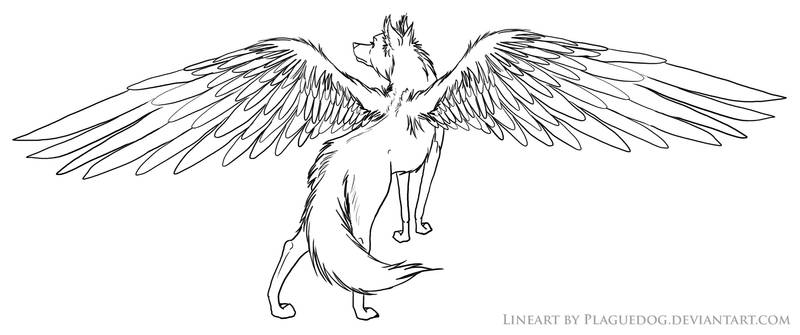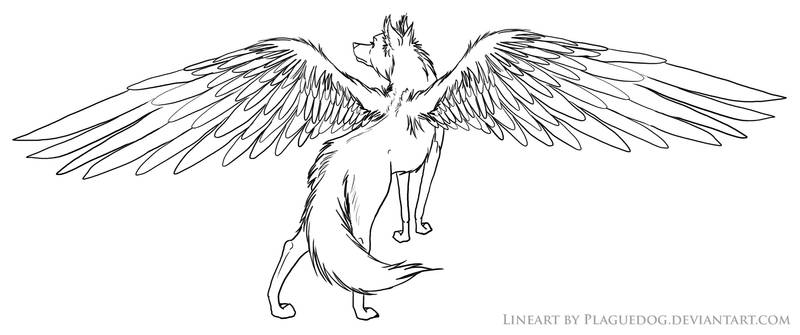 Download for full sized 2000x837
Another one for the lineart suggestions. A winged wolf.
This is free to use for coloring and references and your forums and just for fun, whatever

All I ask is that if you want to take off the "image by plaguedog" line, that you please credit me for the lineart or link back to my deviantart page

I love seeing how you color these! post a link on this if you do one <3
Once again here is a quick tutorial on separating your lineart from the background for coloring in Photoshop.
1. open image and click on the channels tab
2. ctrl-click on the blue layer (rgb mode) to select the lineart
3. Invert the selection (select>inverse or ctrl-shift-I)
4. click back onto the layers tab and make a new layer for your lines.
5. select black (any color really) and fill with the paint bucket
6. Deselect (select>deselect or ctrl-shift-D)
7. Delete the original layer (background), This should leave you with the layer for your lineart on a transparent background
8. Make new layers UNDER your lineart layer to color, your lines will now be completely unaffected by your coloring. if you want your lines to be darker you can always duplicate the lineart layer