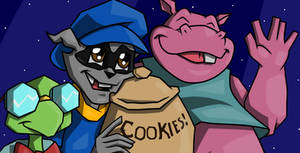 Tip the cookie jar
A tip is not necessary but greatly appreciated. Thanks for supporting my art!
---

Toontown Infinite Website Design Development
Description
Hey guys! Long time no art eh? So, I recently joined the Toontown Infinite team as one of their artists. My job was to create a new drawing for their website. This drawing took me a week to make. I'll be uploading the full site drawing in a bit. If you haven't checked it out already and like to play on Toontown Infinite they will be hosting a raffle on their Facebook page for access to their test server. Go check it out in the link below

!
Note:
I will
NOT
be giving any spoilers to anybody about any further developments of the game or keys as of right now.
www.facebook.com/ToontownInfin…
Image size
948x2825px 2.1 MB

Ahh, this is beautiful!!

I was apart of the TTI team way back when actually, haha. It was some good times. Yes, there was drama. But it's not as bad as people make it out to be. I saw all the skype chat logs, and I can still bring them up to this day and see that it wasn't bad at all. Although, I did join shortly after that one guy put a "RAT" on someone? I forgot the whole ideal. However, I got kicked out because I was inactive, which is mostly my fault for not telling them I wasn't interested in Toontown stuff anymore.

Anyways.. I hope you enjoy the TTI team! Being on any group project and collaborating with a bunch of other artists in various different medias is a very fun experience! Definitely one of my most favorite moments in the Toontown community. c: