I didn't realize it until I was just about done with this release, but Deviant Love's 5th birthday was a few months ago, on April 3!

And while it may be a little late to dedicate a 5th anniversary release, it's never too late to give thanks to your favorite artists for all they've shared.

(As for time-independent milestones, according to GitHub, this is the 20th open source release, so that's cool, too!)
Subaccounts

Is there an artist you love who has multiple DeviantArt accounts? Deviant Love can now display all their artwork under one name! You can review everything about their submissions you love at once, and their combined total determines their placement in "most faved art" order!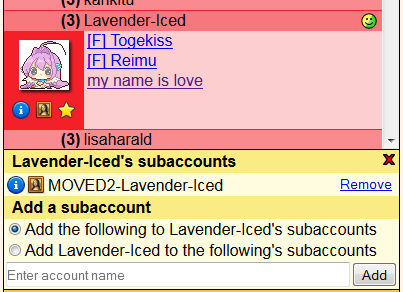 Unfortunately, Deviant Love can't detect subaccounts automatically, so it's up to you to tell it who's who. I think it's worth it, and I hope you will, too!
The angel is in the details

With this release comes a bevy of little improvements to make using Deviant Love a more pleasant experience. Read
the changelog
for all the details. One artistic detail of note is a red-orange tint to the formerly pure-white background - I think it preserves the look I'm going for while removing the unprofessionality of using pure white in a user interface.
Get it


Deviant Love 2.2 for Firefox
Deviant Love 2.2 for Chrome
The future

Deviant Love's codebase has gotten kinda gnarly over the years, especially with the addition of the subaccounts feature. My first priority will be refactor it to make it a joy to work with again. And also to geek out over exciting new ECMAScript 6th Edition features! But mostly to straighten out the codebase.
After that, what I most want to see is Deviant Love on Firefox for Android. That will take some work that'll improve Deviant Love for anyone with a high-DPI display and/or a touchscreen. This will be among the highlights of release 2.3.
And I still really want to see skin support in Deviant Love, so I can see what the DeviantArt community does with it! The addition of skin support would be enough to justify bumping the version number to 3.0. Maybe I'll skip 2.3? It's possible, but I don't want to do too much at once with no releases in between.
I'm far from too proud to say it's
wonderful
that one of Deviant Love's most prized features, searching favourites,
has been rendered redundant by DeviantArt
! That said, I still think there's value in Deviant Love's find bar, and I'll be working to improve its unique strengths.
As always, you can learn about & discuss what's coming next for Deviant Love on
the Roadmap
.