The 10 Winners of the Original give away are:
First place:

You got the Original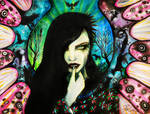 Please write me a note with your adress!
2 Place: 100 points

3 Place: 50 points

4,5,6,7,8,9,10 Place: 25 points






For all the others who didnt win something... dont be sad!!!I want to do an art give away soon again!!!!
Your Pixie
Looove you my dear watchers and thank you sooo much for your support!!!!