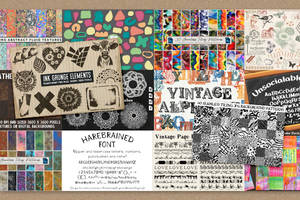 HG Designs Subscriber Area
Lots of high resolution goodies for graphic design including textures, photoshop brushes, seamless patterns and more.
---

5 Dry Brushes for Photoshop
116.1K
Views
1
Collected Privately
Description
This week's set of Photoshop Brushes are for achieving the traditional dry brush effect.
For brush requests, ideas for future brush sets, or related questions you can email me at brushtip@pixelstains.net
The set contains five different brushes:
The first one is a brush designed for painting
The second brush mimics paint loaded sponge.
The third is dry sponge.
Fourth brush is dry brush.
The last one is a dry brush designed for sketching.
Tips:
Set a paper texture in the background and paint over it for a pleasant traditional effect.
Set your foreground color to black to be able to work within the full range of values.
For a more appealing effect use the brushes in combination with smudge brushes. You can find some smudge brushes here.

NOTE:
All my brushes are FREE to use both in commercial and personal art.
I do not request credit or back linking, but if you do I'll take it as a kind gesture.
If you want to keep up with the latest content you can subscribe to my weekly newsletter at pixelstains.net


Hi,
I am looking for a brush to help me get a better texture on skulls/bones. Would you recommend the 3rd one or there is another I should take instead?
Thanks