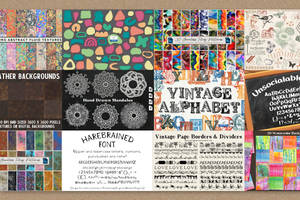 HG Designs Subscriber Area
Lots of high resolution goodies for graphic design including textures, photoshop brushes, seamless patterns and more.
---

3 Photoshop Brushes for Painting Feathers
99.2K
Views
2
Collected Privately
Description
Today's Photoshop brushes are for painting feathers. They were requested by "Djordje"
For brush requests, ideas for future brush sets, or related questions you can email me at brushtip@pixelstains.net
The set contains three different brushes:
The first brush can be used to set a base for wings. Combined with the third brush it looks quite nice, however it doesn't substitute drawings skills, it just saves time.
The second brush can be used for drawing ornamental feathers, or adding feathers to your character's outfit.
The third one works good for the feathers that are highest on the wing, but it can look pretty sick on costume designs too.
Tips:
Pay attention to the feather's direction.
Use grayscale first color second for more control over the effect.
Once your texture looks in place you can experiment with blending modes ranging from Overlay to Color Dodge to add hue and chroma variation.
Don't over-texture shadows. Textures are most prominent in the area where the light fades into shadow (halftone); try to tone down textures in shadows as much as possible. In deep shadows eliminate them entirely.
For extra details use the default pressure sensitive soft brush or with noise added.
When painting, watch images of feathers for reference.

NOTE:
All my brushes are FREE to use both in commercial and personal art.
I do not request credit or back linking, but if you do I'll take it as a kind gesture.
If you want to keep up with the latest content you can subscribe to my weekly newsletter at pixelstains.net


IN CASE YOU WONDER THIS IS THE ONLY PEACOCK-LIKE BRUSH I'VE SEEN & it's gorgeous. THANKS.