It's been a while, and I've been taking a break from uploading and working like a fiend during my off time. Hope everyone is doing well!
This is an interesting piece that I really wanted to share. I ordered an official animation cel from the OG Ducktales cartoon featuring the witch with the most hex appeal, Magica! Unfortunately there was a mix up and I was sent the wrong background image for the cel, while the one for my cel was sent to somebody else who, for whatever reason, didn't want to part with it.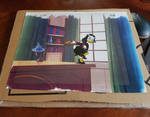 It took some doing, but friends on Twitter helped me identify the exact scene from the episode Send in the Clones, Season 1 episode 6 of Ducktales.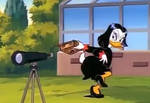 I took a screenshot of the episode at the best resolution I could manage (which wasn't very high) and recreated the entire background in Photoshop. I printed it out on 8x10 photo paper and, voila! My priceless Ducktales cel is complete!