Here's Fifi as Captain Marvel, a follow-up to my Della Duck Captain Marvel as well as the AMAZING preview photos from Marvel's upcoming film that arrived this week.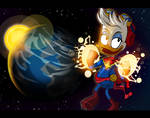 Hope everyone is having a MARVELous weekend! Thanks for all your support of my recent non-mlp art. I really, truly appreciate your patience and tolerance as it's been so much fun exploring other characters and shows.
Take care, thanks so much and talk soon!