Hello and welcome to our 102nd week!
Before you join, please read our
Rules
to avoid confusion and any unpleasant
 situations
!!


 Dates
Start: April 19th

End: April 29th

Winners announcement: May 7th
Theme of this week: Snails and Slugs

This week (well a week and a half

) we would like to invite you to get a bit closer to the nature, and create a pixel art with a snail as a main topic! of course we know our participants are full or creativity and we're sure that we won't see just cute snails (though they are welcome, too!). How about a witch potions with snails, sea slugs, dishes with snails or even a portrait of Slughorn?

Inspirations:
Tutorials for this week: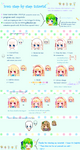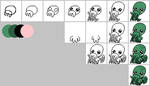 Need more? Check out 
TutorialsForYou
and 
TutorialsClub
 to find more tutorials!



How to join the challenge?
Please remember! If you send your entry via note, you have to accept the request that will be send from the group by the deadline, otherwise the deviation will not be considered as an entry!
Make sure you also link this challenge article in your deviation's description, so that we know that you have read our Group Rules.
Prizes!
1st place: 100


2nd place: 50

3rd place: 50



All participants will get a llama from UszatyArbuz and her side account ArbuzoweArchiwum

:bademoticon:Group News:
Share some love with our last week participants 
here
!
Winners of Pizza challenge are here!
Good Souls feature (March)
New Member Feature
 - welcoming new members of our group! 

What's going on at our affiliates?
 - want to affiliate with us? Send us a note or affiliation request 

Have fun!