Hello and welcome to our 91th week!
Before you join, please read our
Rules
to avoid confusion and any unpleasant
situations
!!
Dates
Start:
12th December
End:
22th December
Winners announcement:
25th December
Winners will be chosen by admins
Theme of this week: Winter Scene Collab!
Christmas are soon! Last year we were
asking you for decorations
for our pixel Christmas Tree. This time we would like your help inhabit a snowy valley of Pixeltopia!
There are only 26 slots of two different sizes, with a short guidelines of what we see in which places. See below for details!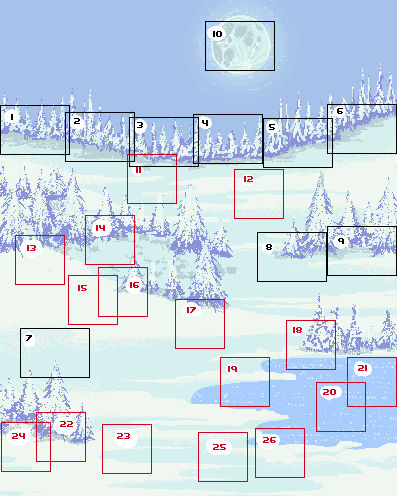 Rules:
You can only choose one slot to decorate // One entry per participant.
There are two types of slots: black and red. Black slots canvas is 50x70 pixels. Red slots canvas is 50x50 pixels. please stick to the canvas size and don't make bigger artworks!!
Please comment below in comment section with your slot number.
Don't forget to check which slots has been taken first and then comment with yours. The list of participants is below.
If your favorite slot has been taken, we will give you another number.
If you don't care about choosing number, but want to participate, just write in comments "I want a surprise number" and we'll give you your number as soon as possible.
Please send your entry using sta.sh (send a note to PixelChallenges with a

link to the sta.sh). We'll add your entry as soon as possible!

Your entry has to be static. We don't accept animated entries this time.
Your entry can have transparent parts.
When you submit your entry to your gallery folder, don't forget to add this link to the deviation's description.
We will put your pixels on the scene, and on Christmas we will submit it for everyone to see!
We have limited numbers for our tree, so hurry!




Extra tips:

Please remember to work within the workspace size. For RED CANVAS is 50x50 pixel, and for BLACK CANVAS it's 70px wide and 50 pixels high.

The guidelines are suggestions how we see the scene, but you can do something similar instead. Just remember that it should fit to overall winter scene and have the winter / Christmas mood.

If you are going to add characters, they can be your OC, or canons, they can also be closed species or anthro - anything you like!


We may move your finished piece a couple of pixels in this or other way, or switch slots with the same "theme", just to make the scene look more natural.


List of participants & guidelines:
NOTE: Taken places are in bold.
Please note we need to time to update the list - check out the comment section first!
AIternativeBunny /

A house

prte1 /

A house

Amarantheans /

A house

TrixyNetex /

A house

Flying-Snake /

A house

MsMellaa /

A house

Cortoony /

A house

pamixx /

A house

Cosmos-Centric /

A house

HorsePal122 /

A shadow of Santa like here

Sopheirion /

Snowman, kid(s) making snowman or Christmas tree

Silvertail108 /

Snowman, kid(s) making snowman or Christmas tree


EMPTY /

Kid(s) sledding or skiing

14.
Fuzzyspirit /

Deer eating hay from feeder
15.
EMPTY /

Kid(s) sledding
or skiing
16.
EMPTY /

Kid(s) sledding
or skiing
17.
EMPTY /

Kid(s) standing with sledge
18.
Ero-Haru /

Someone fishing in ice like here
19. Usagui12
/

Kid(s) ice-skating
20.
EMPTY /

Kid(s) ice-skating
21.
EMPTY /

Kid(s) ice-skating

22. ndnninja15
/

Igloo
23.
actuallyglitter /

Igloo
24.
jump2537 /
Snowman, kid(s) making snowman or Christmas tree
25.
AspiredWriter /

Kid(s) building snowman
26.
whiskeyabuse /

Kid(s) building snowman
Inspirations:
Tutorials for this week:
<da:thumb id="637153436"/>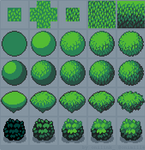 <da:thumb id="436016273"/>


Need more? Check out
TutorialsForYou
and
TutorialsClub
to find more tutorials!
How to join the challenge?
PLEASE REMEMBER TO SEND US YOUR ENTRY VIA NOTE IF YOU WANT TO KEEP IT SECRET UNTIL CHRISTMAS!!!
Please remember! If you send your entry via note, you have to accept the request that will be send from the group by the deadline, otherwise the deviation will not be considered as an entry!
Make sure you also link this challenge article in your deviation's description, so that we know that you have read our Group Rules.
Prizes!

First Place: 150


Second Place: 100


Third Place: 50


Fourth Place: 30


Fifth Place: 20


All participants will get a llama from PixelFairyHome , UszatyArbuz and Amarantheans

All participants will get a feature from Amarantheans


All entries will be featured in a Monday Pixel Madness journal by UszatyArbuz


~more prizes may be added soon~

:bademoticon:Group News:
Share some love with our last week participants here!
Vote for your favorite from our Click challenge -
click here
!
Good Souls feature (November)
Member Feature
What's going on at our affiliates?
- want to affiliate with us? Send us a note or affiliation request

Have fun!