Hello and welcome to our 86th week!
Before you join, please read our
Rules
to avoid confusion and any unpleasant
situations
!!


Dates
Start: 24th October
End:
29th October
Winners Announcement:
5th November
Voting by pool



Theme of this week: Haunted House

Inspirations:
Tutorials for this week: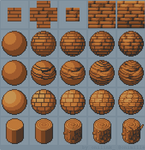 A Handy Guide for the Aspiring Pixel AnimatorWelcome to this Pixel Art week's Saturday morning event! This guide has been written as a follow-up course to

TrixyNetex

's article: "How To Make Pixel Art in Paint.NET". You've learned how to make pixel art, now it's time to make these sprites move!



First of all, know that animation is time consuming, be it pixel animation or any other kind of animation. Plus, this course does not apply to pixel art only, so if you want to use these concepts in digital drawing animation, feel free to try!
SUMMARY:
1) Layers and Points of Reference
2) Framing and Sprite Sheet
3) Loops for Smooth Transitions
4) Cycles and Sub-animations
5) Complex Animations
6) Other Tips

1) Layers: from splicing and creation to coordination of frames
The first tip to manage sprites in an easi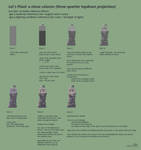 How to join the challenge?
Please remember! If you send your entry via note, you have to accept the request that will be send from the group by the deadline, otherwise the deviation will not be considered as an entry!
Make sure you also link this challenge article in your deviation's description, so that we know that you have read our Group Rules.
Prizes!
1st place: 75

2nd place: 50

:bademoticon:Group News:
Share some love with our last week participants
here!
Cast your vote in pool for last challenge!
Good Souls feature (September)
What's going on at our affiliates?
- want to affiliate with us? Send us a note or affiliation request

Have fun!
icon here