Hello and welcome to our 62th week!
Before you join, please read our
Rules
to avoid confusion and any unpleasant
situations
!!


Dates
Start: 11th Arpil
End:
16th April

Members voting: 17th - 23th April
Winners announcement:
24th April
Theme of this week: Isometric - buildings and rooms

Some time ago we asked you
what themes would you like to see in our challenges
. I was a bit surprised that over 40% of you voted for technical pixel art related themes! Thus, I decided to host another Isometric challenge for you!
In video games and pixel art,

"isometric"

refers to some form of

parallel projection

(commonly, the form of

dimetric projection

with a 2:1 pixel ratio) where the viewpoint is rotated slightly to reveal other facets of the game environment than are typically visible from a

top-down perspective

or side view, thereby producing a three-dimensional effect.


Source
I hope everyone enjoy creating isometric architecture! Buildings and rooms are quite easy things to create, even though it may sound really complex. This week,
I would like you to chose creating either a building, or a single room
with furniture and stuff inside it

Please remember
you
can chose only one thing,
because we allow only one entry per challenge!
Inspirations:
Tutorials for this week: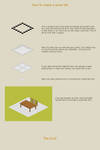 Need more? Check out
TutorialsForYou
and
TutorialsClub
to find more tutorials!
How to join the challenge?
Your entry for week
62
can be added here:
Link to current open gallery folder
or send a note to
PixelChallenges
and our Team will add your entry to the right folder, thanks.
Please remember!
If you send your entry via note, you have to accept the request that will be send from the group by the deadline, otherwise the deviation will not be considered as an entry!
Make sure you also link this challenge article in your deviation's description, so that we know that you have read our Group Rules.
Prizes!
Voting winners:
1st place: 100

from
PixelChallenges
2nd place: 50

from
PixelChallenges
3rd place: 20

from
PixelChallenges
Cake badge to
UszatyArbuz
favorite isometric building
Cake badge to
UszatyArbuz
favorite isometric room
:bademoticon: Group News:
Share some love to our past week participants
here
!
Winners of week 61 will be announced soon!
Check our last Donors feature
Good Souls feature (March)
!
Have fun!


Its pretty neat to see something of mine as inspiration.

I hope I can finish something in time, we'll see what happens.