Hello and welcome to our 58th week!
Before you join, please read our Rules to avoid confusion and any unpleasant
situations
!!


Dates
Start: 29th February
End: 5th March
Voting till 12th March
Theme of this week: Spring II


Pixel Challenge Week 25

PixelChallenges

presents to you our 25th challenge week which we host alongside

PointLove

!
Don't forget about our rules here.
Please make sure you also link this challenge article in your note so that we can double check that you have read through the rules.
Dates
Start: 13th April
End: 18th April
Winners announcement: 19th April

Rules:
Please read through our rules carefully or your entry may be disqualified.


Your entry must be new and created for this challenge. Pre-existing works won't be accepted.


Your entry must abide by DeviantArt's Terms of Service and Policies


All entries must be drawn in Pixels


One entry per participant

spring I
Oh, finally, spring! You need to make something sping-related in Pixels!

Inspirations:
Tutorials for this week:
<da:thumb id="593795808"/><da:thumb id="593390146"/><da:thumb id="593384516"/>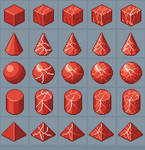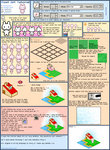 Need more? Check out
TutorialsForYou
,
Pixelcommunity
and
TutorialsClub
to find more tutorials!
How to join the challenge?
Your entry for week
58
can be added here:
pixelchallenges.deviantart.com…
or send a note to
PixelChallenges
and our Team will add your entry to the right folder, thanks.
Please remember!
If you send your entry via note, you have to accept the request that will be send from the group by the deadline, otherwise the deviation will not be considered as an entry!
Make sure you also link this challenge article in your deviation's description, so that we know that you have read our Group Rules.
Prizes!
100

for 1st place in voting
Cake badge for 2nd place (Admin Team choice)
:bademoticon: Group News:
Cast your VOTE in our POLL:
here
Share some love to our past week participants here:
link
Check our last Donors feature here:
Good Souls feature (January)
OH! And don't miss our next big Project next week!!
Have fun!