Hello and welcome to our 36th week!
Don't forget about our rules
here
.
Please make sure you also link this challenge article in your note so that we can double check that you have read through the rules.
Dates
Start: July 27th
End: August 1st
Voting until August 8th
Theme of this week: Palette challenge II !
We're holding another Palette Challenge for you!
Create a pixel artwork with the color palette provided below. For this week we're having additional rules:

You have to use all, exact colors in the palette

You cannot add more colors - you can only add transparent parts if you want

You are free in choosing the topic of the artwork

We are going to check if the exact colors were used in the picture!
RGB:

118 / 141 / 147

099 / 108 / 123

071 / 073 / 084

040 / 040 / 050

195 / 091 / 072

255 / 140 / 061

The palette that you have to use is:

Download here
Inspirations:
Tutorials for this week: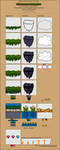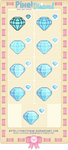 Need more? Check out
TutorialsForYou
,
Pixelcommunity
and
TutorialsClub
to find more tutorials!
Your entries for week
36
can be added
here
or send a note to
PixelChallenges
and our Team will add your entry to right folder, thanks.
Prizes!
:bademoticon:

First place:
100

:bademoticon: Second place: 50

:bademoticon: One cake badge for UszatyArbuz 's favourite entry (from PixelFairyHome account)


:bademoticon:

Every participant will get a llama from
UszatyArbuz
!
:bademoticon: Group News:
Share some love to our past week participants
here
!
Last week challenge voting:
Pool 1
|
Pool 2
Check out our latest Donors feature:
Good Souls Feature (June)
Have fun!