Hello and welcome to our 47th week!
Don't forget about our rules
here
.
Please make sure you also link this challenge article in your deviation's description, so that we know that you have read through the rules.
Dates
Start: November 9th
End: November 21st


This is a 2 WEEK Challenge!


Voting until November 28th
Theme of this week: Snow Globes
So Winter is right around the corner! I want to see your snow globes!

Keep in mind they may be static as well as motion, you could just have a snowglobe in your drawing, and it dosen't even have to be a winter scene! So that you can truly explore the art of Snow Globes; we are giving you two weeks to complete this challenge!
Inspirations:
Tutorials for this week:
Even though your globe doesn't need to be animated, I found some awesome basic animation tutorials, using several different programs!
So check them out, and maybe give it a shot!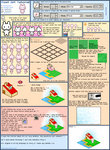 <da:thumb id="77131955"/>





Need more? Check out
TutorialsForYou
,
Pixelcommunity
and
TutorialsClub
to find more tutorials!
Your entries for week
47
can be added here:
Week 47 Gallery Folder
or send a note to
PixelChallenges
and our Team will add your entry to right folder, thanks.
Prizes!
One most voted entry:
:bademoticon: 100

:bademoticon:
Amarantheans
favorite entry gets 50

All entries will recive a feature at
OurDreamsWillCome
by
Amarantheans
!
Also you will get a llama. If you have not recived a llama from
Amarantheans
.
:bademoticon: Hey, one of our members would like to get in on the giving!
Meet
Dragoninsky108
she will be donating a short story, to the most voted entry, as well as a llama!
Thanks for the support

:bademoticon: Group News:
Share some love to our past week participants here:
here
Pixel Challenge Week 46 Winners
Check our last Donors feature here:
link
Have fun!