Hello friends, members and watchers! :bademoticon:
We would like to thank you for your continuous support to our group and wish you, as our friends, really happy Valentines day! We are here for you and our group could not work without you, joining challenges every week, donating points for prizes and simply chit chat with us (because we are still normal humans

). So we would like to dedicate this feature to YOU ALL!

Please remember you can make someone's day a bit brighter by sending a Valentine (even anonymous one) here on dA - to read more, check out
Valentine's Day Art Exchange 2016!
And remember that Valentines day is not only for lovers, but it's also for friends and to say someone important that you care about them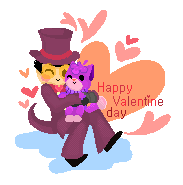 ~
PixelChallenges
Team