73 Favourites
70 Comments
4K Views
A Chronology of Pixar
With the first trailers of their next upcoming movie,
Up
, having been released, it's time to look back at Pixar's 13 years in the feature film business. Much artwork has been inspired by Pixar's creations, so here are a selection of some of the best dedicated to each Pixar film, both from known and unknown artists.
Toy Story
Toy Story
is well known as the first fully CGI-animated film to be created- and it was a good one, at that! Released in 1995, and directed by John Lasseter,
Toy Story
warmed the hearts of both adults and children, and is now considered an icon in the animation industry.
Toy Story 2
followed in 1999, and with a
Toy Story 3
scheduled for release in 2010, fans of the movies are sure not to be disappointed!
:thumb74144262:
A Bug's Life
A story about insects might not sound appealing at first, but Pixar had its second success with
A Bug's Life
in 1998. Many identified with the main character, Flik, and although it may be one of Pixar's least recognised films, its charm has proven to be as long-lasting as their other works.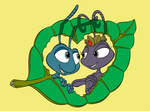 :thumb41550737:
:thumb82818451:
Monsters, Inc.
Monsters hiding under the bed, or in the closet...Many children have these fears and nightmares, but Pixar managed to put a spin on these scary things in
Monsters, Inc
. Released in 2001 under the direction of Pete Docter,
Monsters, Inc.
was successful both financially and critically, and looks to have banished those age-old fears forever!
:thumb67596907:
:thumb61719880:
:thumb68151150:
Finding Nemo
Financially,
Finding Nemo
is Pixar's powerhouse, making over $850,000,000 in worldwide box offices in its release year of 2003. Not only is a sweet and funny film, with animation that looks fresh even today, but the stronger, more emotional side of
Finding Nemo
appealed to the adult audience. Few people can say that they have watched the entire film without shedding a tear or two!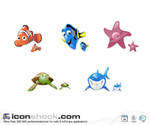 :thumb102119081:

The Incredibles
Brad Bird directed the Pixar movie of 2004, and with the 'incredible' theme of superheroes came a film full of action and adventure, with a surprisingly warm, gooey heart centred around the family. The fast-paced fight scenes, along with an exhilarating soundtrack reminiscent of the traditional superhero films,
The Incredibles
secured a newer, wider fanbase for Pixar.
:thumb61937028:
:thumb19093633::thumb12610221:
:thumb42804510:
Cars
Released in 2006, Pixar went down a completely different track once again with
Cars
, set in a world where cars are alive. With the most beautiful scenery, and a story of an arrogant racing car who learns a lot about himself and the world around him, John Lasseter's baby was a financial hit, and
Cars
merchandise is most commonly found in shops over all other Pixar films.
Ratatouille
Brad Bird's second film with Pixar was
Ratatouille
. The story itself is potentially unappealing- the idea of a rat cooking might not be to everyone's taste- but when the film was released, it was clear that
Ratatouille
had hit the spot. Unsurprisingly, it did very well in France and other non-domestic countries, and although the project was at first unstable, Brad Bird's input, along with the hard work of other Pixarians, put
Ratatouille
back on track to being one of the best films of 2007.
:thumb79537884:
WALL-E
Pixar's latest film, directed by Andrew Stanton,
WALL-E
is the sweet story of two robots in love. Daring to be different, Pixar chose for a large chunk of the film to be effectively dialogue free, but the risk has paid off with
WALL-E
currently being pushed for a Best Picture nomination at the Oscars. Financially, it has done exceedingly well, but it is in the reviews of the critics that it excels, many heralding it as one of the best films of 2008, and even possibly of the decade.
:thumb97261405:

:thumb90402649:
:thumb91848891:
~*~*~
Well, that's it for this article! I'm sure you'll agree that Pixar has been an inspiration to many, both animators and non-animators, and their films deserve to be recognised and appreciated.
Thank you very much for reading! I might be doing another one of these articles at some point, so if you have a suggestion for a piece of Pixar artwork that you think should be featured, just send a note my way.