Description
I do sincerely hope you all have watched HTTYD 3 and that im not spoiling anything n-n
specially because i loved it so much T_T *cries*
And well as a Toothless and now Lightfury lover, how am i not gonna like these cutie pies! *_*
of course i had to make some plushies of the baby nightlights!!, and these are specially thought on you guys as the pattern is for sale for you to make your own!
Pattern available for sale at my etsy store!
Now you can have the whole family together! *cries all over again*
www.etsy.com/shop/Piquipauparr…
There is also a bundle pack available for the whole family!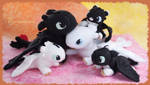 They are in scale with their parents, so that makes them "6.5 long!
the cutest little guys!
----
*-. Thank you so much for taking the time to look at my work!


And Thank you for your words of support!, they do mean the world to me, thanks for taking the time!
My apologies if i don`t get to reply im really busy lately!!!

Hope you'll enjoy the rest of my gallery

Etsy Shop
Twitter
-------
Want to buy ??
please read the info in the link below


--Find my FAQ at my profile page! --



Image details
Image size
1575x1095px 2.5 MB

I'd like to know the gender of each individual Night Light. I haven't found anything on the internet that confirms their genders.