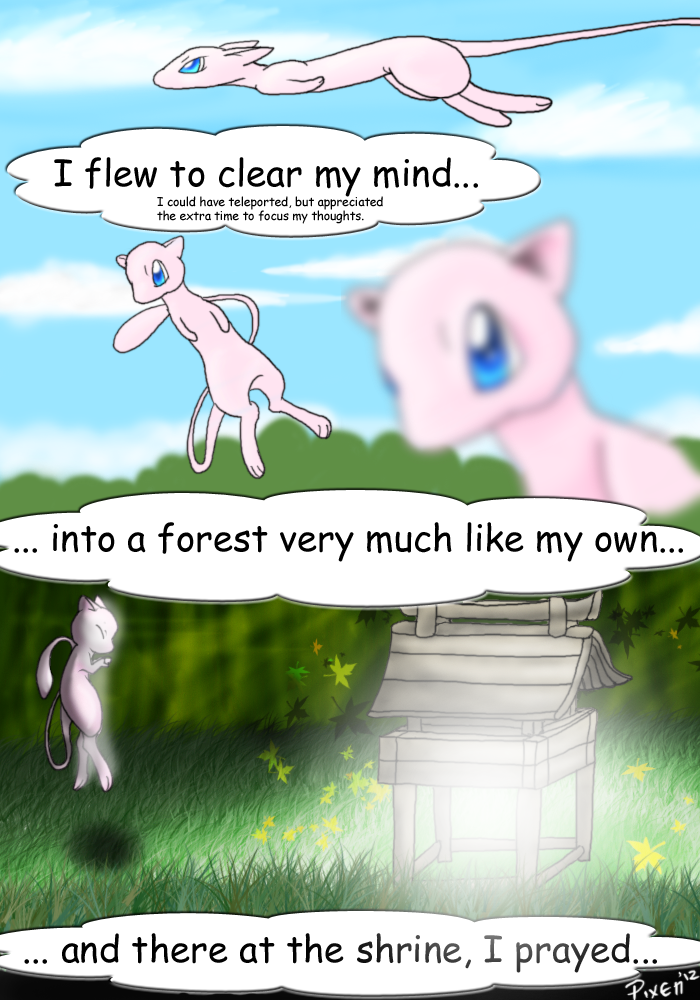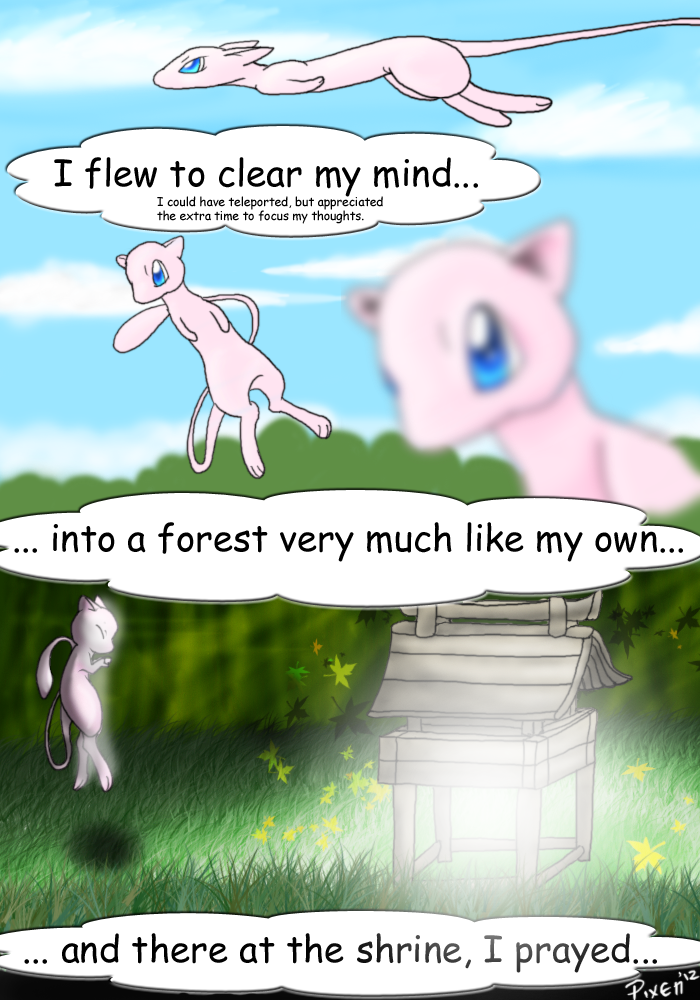 Watch
I'm skipping a few pics but here's where I'm up to *dances in excitement*

It sucks so much but AT LEAST THE STORY'S GETTING TOLD

Well, I got a full explanation. Since it's a bit long, I'll send it via PM instead of cluttering the comment section. I hope you will find it interesting.
Reply

... okay, I've read it and...

Why would a Cipher admin not recognize their leader and founder, source of all Shadow Energy, the very being whose dream of a new world they are trying to create (unless only the leaders themselves, Evice and Greevil, were aware of his true identity)? Why would Mewtwo not recognize his own power within his own Pikachu friend? Why would it be possible for him to be Shadow-ified considering that, technically, he is already a Shadow-ified Mew from birth?

Why would Mew, his opposite and equal in power, pray to the shrine of an equal to her, Celebi? (well, unless she was contacting her to get her forces gathered up to punch out Cipher again... except as a fellow Legendary, why not contact her directly instead of using the mortals' way?)


Just questions that popped up upon finding this pic and skimming through the story associated with it.
Reply

Hey, thanks for commenting!

I didn't know - or think - that Mewtwo was considered a Shadow-ified Mew, and that Cipher and Mewtwo were already linked. I'm only going with already established canon in this part of the story at least, and wouldn't consider the tampering that Doctor Fuji made on the Mew DNA to have anything to do with Shadow Pokémon. (In that sense I'm going with the fanon theory that the Mew DNA was combined with human and MAYBE Alakazam)

Out of curiosity, is there a fanfic or theory otherwise which goes into explaining the link between Mewtwo and Shadow Pokémon? Or is it canon? (in that case, oops) Especially since you mention Mewtwo is Cipher's leader and founder. Not sure I'd agree with it, because I see Mewtwo as a deeply emotional Pokémon capable of caring and love whereas a Shadow Pokémon is one with a closed heart (which is about the only description we get in the official canon) which I've taken to mean one with their emotions and personality completely shut off for the time being.

The reason Mew prays is sorta a combination of things, I somehow see it as a way to start communications respectfully (not so much devout prayer as such but just opening communications) because at this stage in my fanon timeline Mew and Celebi are aware of each other but not really anything but acquaintances YET. Also because Mew is going to be asking Celebi for help so yeah.
Reply