In
PinUp-Club
, we are proud to feature the interview of the month september 2013, with a amazing artist from the world of classic pin ups, ladies and gentlemen please welcome to the great master:

Lorenzo Di Mauro
---
1. Could you tell us something about you?
I was born and raised in Sicily, then I moved to Rome where I still do live.
I've worked for years as freelance illustrator with Italian subsidiaries of international advertising agencies. I also was curious about multimedia and I experienced the creation of a number of interactive CD ROM published by De Agostini Multmedia and animations for internet. I always loved vintage pinups. In past I could only do pinup paintings occasionally.
Now, since a while, I'm spending more time working on pinup art, I also like sometimes working on some fantasy pieces, portraits and a few caricatures.
2. How did you discover painting and why do you make it?
I've always loved drawing, as a child it was my favorite pastime. Then as a student, I also did silkscreen printing on shirts, stickers, art posters and more, to raise money for holidays. I started thinking to work as an illustrator when I was about twenty years.
3. Everyone has their own opinions about the meaning of the art, so what is art for you?
Hard question ... I think that art is "Quality" which sometimes makes magical experiences in every aspect of life. "Quality" in the meaning of
Robert M. Pirsig
in his books
"Zen and the Art of Motorcycle Maintenance"
and
"Lila "
, so let me add a Pirsig's quote about art:
"Art is anything you can do well. Anything you can do with Quality"
.
I don't think that in all the stuff produced by an artist - even great - there is always art, on the other hand you can also meet art in the sound of the flute of a shepherd, in a graffiti artist or a subway musician.
4. How would you describe your art?
I would say illustration, with the creative side and also with a artisan side which I love as well.
5. How long have you been working with this style?
Freelancing in advertising, I've worked with several styles, but my favorite one is realistic style. Since many years I'm used to work in this way:
I look for proper photo references, I also care composition and body proportions, which never are the same as the references. I consider my pinups like creatures belonging to the realm of imagination, dreamy beauties which do not exist, with long legs, healthy breast, thin hips impossible to find in real life.
My painting process is never quite copying the photo. I take references from several photos, if necessary I also do additional photo shots until I have what I need to create unreal beauties looking real.
6. How long does it typically take you to finish a art piece?
Normally it takes 3/5 working days, but there are also more demanding jobs which take even weeks.
7. Do you admire to some artist in particular?
Too much to mention all of them… masters of Italian Renaissance, those of modern illustration as Leyendecker or Rockwell, great Pinup artists, first of all Elvgren, and then Frazetta, Vallejo, The Hildebrants, Sorayama, Adam Huges, Mike Butkus and many others greatly inspiring artists.
8. What do you think about the changes by many artists in the creation of pin ups with the arrival of digital art?
I don't know… as for me there is almost no difference between digital I work with now, and traditional techniques I have long used before the computer came. Sure digital offers a few remarkable facilities, but the time it takes me a painting is almost the same... That surprised me too first times.
9. What are your 3 favourite deviations from your own gallery and why?
Not easy to answer this question… "Veronika" which was the first job I was really happy with: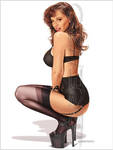 Also two vintage WWII paintings I have done for the upcoming "Wings of Angels" Art Book of the photographer Michael Malak: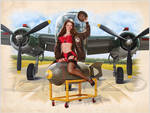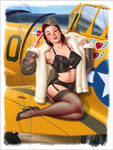 I'm mentioning them because of their vintage flavor.
10. What were the struggles that you encountered in the artistic medium and how would you suggest to others on how to fight with it?
Working as an illustrator is often a fight, There are external factors to contend with: customers, competitors, buyers who do not want to pay or do so late, dishonest people trying to steal your work, lawyers and such. There are also internal factors such as laziness and lack of confidence in themselves ... In any case, do not be discouraged if you love this job, hold on and always improve yourself, results will come.
11. What are you currently working on? What can we expect from you in future?
I currently work on commercial stuff for billing reasons, so I do what they ask me. I also hope to work on new personal pieces as pinups and a new fantasy set.
12. Is there anything else you would like to say to all people that begin on this artistic medium?
I like to work until I'm happy with the result. This keeps time and I'm afraid that speed painting lovers would not find interesting my suggestions. For everyone else, I suggest to search for good photo references, to spend time in reaching your goal. A very old trick I often use is looking at the image like it's reflected in a mirror. In digital this is very easy just by using the "flip horizontal" command. Do it while working and you will see mistakes you have not noticed before.
---
For more info about Lorenzo's works you can visit these websites:Official websites:
www.lorenzodimauro.com
lorenzoart.blogspot.com
www.visualshop.it
Facebook:
www.facebook.com/Lorenzo.DiMau…
Facebook page LorenzoART
www.facebook.com/pages/Lorenzo…
Deviantart:
lorenzodimauro.deviantart.com
Shadowness:
shadowness.com/Lorenzo
Zazzle stores:
www.zazzle.com/lorenzogirls*/h…
www.zazzle.com/lorenzoart*/hom…