Buy the full set here: www.etsy.com/listing/715161626… And of course come give love to Mucha! www.facebook.com/AlphonseMucha…
SPRING SUMMER AUTUMN
I got licensed to work with some of Alphonse Mucha's artwork! The past year of running my own alterations shop really put the brakes on being able to finish these. But now that the shop is closed, I was able to dive back in! Winter was a good pattern to come back to, her colors were pretty minimal and most of the lines were out in the background anyway.
I included a photo of my bobbins so that you can see that the colors aren't anywhere near as washed out as my program makes them out to be.
All colors
are DMC cotton - there's no metallics, beads, or other embellishments. There's a bit over
one hundred and forty feet of backstitching
throughout this
two foot tall pattern
. The background is done in half-stitching for a smooth, soft look, and our Lady Winter and the foreground are done in full-stitches. 221 x 429 stitches.
All in all, it took me
30 solid hours
of pattern drawing, color placing, and symbol formatting, with another few hours to compile all that information into a readable PDF.

WIPs can be viewed in my scraps:
pinkythepink.deviantart.com/ga…
Do you like cross-stitch?! Do you like patterns?!
Check out the other goodies in my gallery: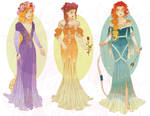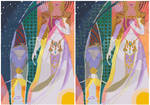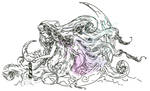 Image details
Image size
2400x3300px 4.82 MB