Deviation Actions
Daily Deviation
April 21, 2013
The suggester said:
"I've just come across this deviant with the most unusual, cute and beautiful products! It's so hard to choose which of her items is the best."
Two-Piece Creamy Suit Bead Dress by =
pinkythepink
This is done from a kit I special-ordered from Japan that came with all the supplies, including the mannequin. This is the ninth of the five-inch-tall miniature bead dresses I've done from kits. This is the first dress with long sleeves!
This is the fourth of the short-skirt patterns and the second pattern to be done with a top-and-skirt style instead of one-piece-with-frills-on-the-waist. In other words, the jacket and skirt of this dress are two separate pieces, where as normally I bead the whole dress and any separation is an illusion. When I said the jacket from the previous dress
fav.me/d5wfufj
wouldn't work with this dress I was referring to the sleeves here. I took photos of it without sleeves as I find this to be a perfectly acceptable finished product and without sleeves it could have the jacket.
As with the tennis dress, the skirt was also beaded first. "The skirt on this dress can be used with other tops, but this top can only be used with this skirt." I intend to make modifications to both the tennis dress and this dress to make this false - it doesn't make a whole lot of sense to me to continue limiting the patterns.
Uses size 11 creamy-yellow, yellow (with pink lining for some reason), and peacock brown/gold/green/purple; size 15 creamy-yellow, and 3mm plastic gold beads. The purse uses size 11 light-lime and silver-lined gold. The purse also includes a plastic piece I've been unable to find for purchasing and a large metal ring. All of this is threaded together with light yellow One G Japanese nylon. All beads are glass seed beads except for the 3mm buttons. Nearly all herringbone stitch.
The sleeves didn't take nearly as long as I expected them to. The pattern started from the wrist and went up and then attached at the shoulder. This is much more sensible than any other times I've done sleeves (albeit short ones) and I'm happy to have learned the process. I find the sleeves to be a bit bunchy around where they connect but I justify this with A. that's what the picture on the kit looks like! B. shoulder pads, possibly, or C. I'm just not that familiar with how sleeves really work, perhaps this is normal.
The purse shares that plastic piece with the next dress to be done. This one, obviously, is in gold, the next one is in red. Since I have no idea where to turn to buy these little plastic pieces I'm going to be experimenting with making my own; molds I believe won't work since they're so thin, plastic in general I don't want to seem "cheap" for the prices I intend to ask, and I'm unsure if I have the skill to do some metal work. Uh... so... why is the purse green? I really have no clue. Those are the beads that came with this kit and so I did it, I'll be making some alternates to go with it.
This is the first dress I did since I opened my facebook page! If you want to see the progress from the waist down and then up, feel free to come check it out:
www.facebook.com/makeitpinkets…
Color Total:
4 (Purse: 2)
Bead Sizes:
3 (Purse: 1)
Size:
4 inches tall, 1 1/4 inch waist, 1 1/4 inch bust, 1 3/4 inch hem, 1 1/2 inch sleeves
Size Purse:
1/2 inch tall, 1/5 to 1/4 inch wide, 1 inch long
Time:
17 hours (13 1/2 without sleeves), 1 1/2 Purse, 18 1/2 Total
I can only place six thumbnails per deviation so as the short dresses continue fewer long dresses will be featured.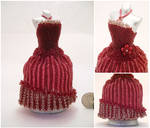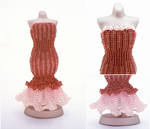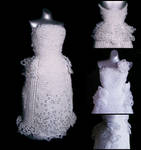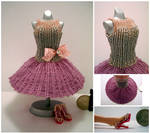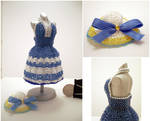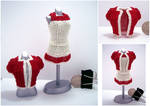 Edit:

!! Oh my goodness!

A second DD! I didn't think one was achievable, let alone a second! Thank you a thousand times over
MayEbony
for suggesting me and
Talty
for featuring me, it's an absolute honor!

Featured here too

gryffgirl.deviantart.com/journ…
Image details
Image size
1129x1182px 2.14 MB