Description
Done with permission from the illustrious
euclidstriangle
based upon this absolutely gorgeous artwork: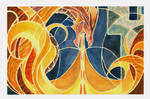 Just about ~15x9.5 inches for the large version, ~7x4.5 inches for the small.
Small stitched: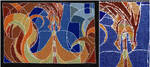 Euclid has requested that this be a
limited edition
pattern so once they're gone, they're gone.

So because my program, for obvious reasons, doesn't properly show off the unique color selection I have going on here I included the color swatches I have picked out.
Except for the photo of the DMC Rayon, the thread samples are not my images.
My main focus with this conversion was keeping the stained glass look of the original. Recreating watercolors or stained glass with thread isn't an easy thing to do. I did some hunting around on Pinterest and found that, basically, stained glass patterns come in three forms: paint-by-number, pixelated, and detailed. I think what I've ended up with is a mix of painting-by-number and detail annnnnnd you're all probably going to hate me for that.

A lot of people, I know, hate stitching with Rayon or Metallics when it's only for a short period of time butttttt I sort of covered this piece with it and didn't slack on the partial stitching either. Yep!
The blue background is DMC silky/satiny rayon thread, very shiny as you can see in the photo. The fire is done up in Kreinik metallics, size 8 braids. The dragon is done mainly in the DMC cottons. The cotton doesn't have the intense luster of the other two types so the dragon should have a pretty sweet contrast sitting nestled in the metallics and rayons. The eye is that black metallic there, something I definitely recommend but in the end, because it's only like six stitches, you might choose to replace with cotton because the Kreinik spools are kinda pricey. His maw is that Canon Watercolor thread because of the fine detailing
euclidstriangle
stuck in there blending around the orange/yellow/purple and, honestly, with the rest of the specialty threads going into this why not grab a perfectly dyed cotton to go in too?
There is absolutely no backstitching on the large version and it's highly recommended that you might pick an extraordinarily plain piece of fabric for the background - white like Euclid's original watercolor, black like a traditional stained glass, so on, so forth. For the small version the detail is picked up by backstitching and so, all well and good, you shouldn't see any fabric except the border.
Previous WIP can be found
[in my scraps]
.
OTHER PATTERNS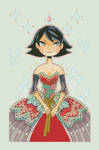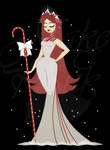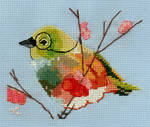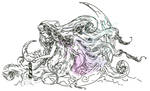 Image details
Image size
2400x3300px 1.01 MB