Description
Pattern is my own, based on the stunning artwork from the illustrious
euclidstriangle
: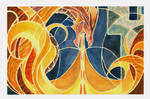 My pattern: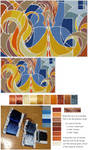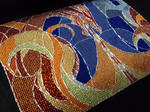 I was approached last month on Etsy not to do a custom pattern, but to
stitch
a custom piece!

I can hardly contain my excitement over that, haha. When I opened up the message I thought it was going to be someone asking me questions about the material choices for the dragon, or perhaps if I could make the dragon xyz colors, or maybe they were just contacting me through the dragon listing to get a custom pattern done. OHhhh how happy I was to see she wanted me to stitch up the entire piece!

Stitching went super smooth.

I started with the satiny-rayon blues to get my base shapes in, then went for the metallic Kreiniks. Some of the Kreinik is a lot easier to use than others.

Some are basically just... I dunno, cotton probably, thread, with only a single strand of shiny metallic woven in. Then others are just ribbon so the twisting becomes a pain. Others still are perhaps coated, or maybe just really tightly woven, with some sort of... mm... I don't want to say plastic, because it's not that, but it has some sort of different texture to it that just makes it extremely difficult to tug through the fabric.
Cottons for the dragon and isolated sections around the fire went next. Cotton is what I'm most used to, and it's also the least amount on the piece, so it went fast. The last part was adding the Caron Watercolor yarn in on the dragon's face. At first I was doing my usual up-down stitching but decided the gradient would match the original art a lot better if I did it left-right. Sooooo yeah I tore that bit out and restarted. About half way up the thread gradient was becoming too grey and brown for my liking, so I tore that out

and cut another strand to pick the oranges back up and end on the same purple shade that I started with.
The very last touch was the backstitching, which I'm actually the least satisfied with. It's super important for the stained glass look of the original artwork and there's really nothing wrong with it, I dunno. It's just not making me as happy as all the sparkly shiny wonderfulness of the rest of the piece.
This is the 'small' version of the pattern. I started at the beginning of February and here we are at the very end so!

Just about a month of work. Could have been faster but I've been working both at H&R Block and on the HAED Storykeep alongside this, and my customer was aware of the month long time estimate anyhow.

I loveeeeed stitching this.

Honestly, Kreinik should be in everything.
I wish you could all see this in person.

Color Total:
24
Size:
8 x 5 inches stitching
Time:
81 hours
32 Count black Belfast Linen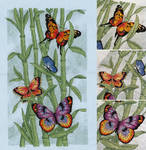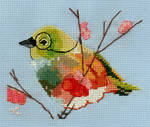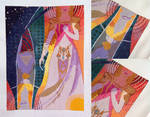 Image details
Image size
1885x850px 4.05 MB

itcolorfulul. has a wonderfully latin American mixed with Aztec and Rio city art fell To. It 💖
My mother made quilts and I once did a few macrame things! I also made some etal enamel owces back on the Early 1980's as High School projects! So I can appreciate the time and dedication this kind of Art requires!😻