This bow was shown as a "cartoonishly huge" option on the upcoming Eumelia dress, which can be seen on my facebook:

www.facebook.com/MakeItPinkEts…
I really love making ribbons out of beads!!

These bows can be adjusted to be worn as a pin, necklace, hairclip, necktie, and so on!
Made as a sort of prototype for you to order in the future! This bow follows a bead path found in Japanese magazine "My Beads Style 16: Ribbon Parade" (in which the pages are read right to left), but the color scheme was my own doing. Because of the amount of colors used in rainbows, this will most likely be the most expensive color pattern for the bows.
The bow is fully 3D with each loop fully hand-beaded along with the tails. The center piece connects the whole thing to a small metal pin on the back, which is secured further along the bow's length. I was
highly
suspicious of putting the tails on... the instructions said to sew them on and then flip them upside down.. eek! I was reluctant but in the end it turned out stunning. I wish I was keeping this one, but it's being sent away for the holidays! After Christmas there should be photos of it being worn.

Made with size 11 glass seed beads in silver-lined red, orange, green, blue, and purple. The yellow is transparent and you can see the white Japanese One G going through it. The majority of the bow is done in a basic netting stitch while the center ribbon is done in peyote.
This could easily be done as a hairclip (3 inches) or as a pin seen here (1.5 inches). Tails are optional and add two extra hours of work.
Color Total:
6
Bead Sizes:
1
Size:
3 3/4 inches wide, 3 1/2 inches tall, 3/4 inch center
Time:
6 hours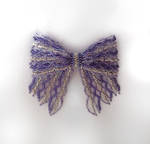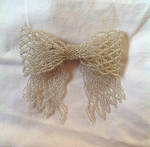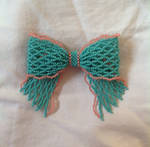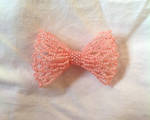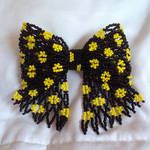 Image details
Image size
968x1000px 510.07 KB
Date Taken
Dec 2, 2013, 2:46:18 PM