Facebook group set up for support for these patterns:

The wonderful
Hannah-Alexander
is no longer active on DeviantArt and hasn't been for some time.

You can see her artwork now primarily through her other pages. You can find those links in her last journal:
Leaving DeviantArt
Something I really need to point out:
pixel representation of thread colors is highly inaccurate. Real thread colors have been matched to Hannah's original artwork as closely as possible.
THESE ARE NOT BEGINNER PROJECTS BY ANY SENSE OF THE WORD.
These are complicated pieces with blended colors, hundreds of beads, buttons, half/quarter/partial stitches everywhere, and literally over thirty feet of backstitching throughout. It's a labor of love that I hope you will share with me when you're finished.
Each are approximately two feet tall on 18 count (or 36 count over two). All three use beads and metallics.

Anastasia
uses 51 unique symbols: 12 blended colors, 32 solid colors, and 7 bead colors.

368 x 412 stitches.
874 beads!

Moana
uses 76 unique symbols: 19 blended colors, 52 solid colors, and 5 bead colors.

246 x 381 stitches.
295 beads!

Alice
uses 43 unique symbols: 11 blended colors, 29 solid colors, and 3 bead colors.
147 x 385 stitches.
581 beads!
Final times for pattern creation:
Anastasia
15 hours
Moana
44.5 hours
Alice
14 hours

It's also very important to note!
Since the last time I posted Hannah's patterns there's been a change in the way limited edition is being handled.

There will still be 50 signed individual copies and 50 signed set copies for the
first edition.
The second edition will be 50 individual copies without a signature, the third edition will be 50 unsigned copies with a raised price, and so on from there. So you really only need to feel a time crunch if you want the
Set Discount
or a
Signed Copy
. Otherwise my hope is to always keep these patterns available, for as long as Hannah allows it.

Fabulous watermark created by
DukeWaxeye
.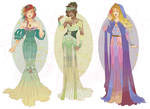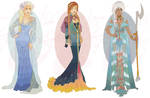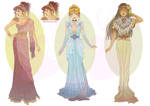 Original gorgeous deviations:
Image details
Image size
3600x1650px 4.02 MB