The wonderful
Hannah-Alexander
has given me permission to create and sell some patterns based on her work. If these are successful I hope to partner with her further to do the other princesses. A massive amount of thank yous to
Hannah-Alexander
for letting me use her artwork and
Mattsma
,
Katjakay
,
Magical525
,
SpitfireFae
,
Fusainne
, and
GraniteFire
for doing color checks and quality control for me.

Something I really need to point out:
pixel representation of thread colors is highly inaccurate, you'll notice that the bottom of Meridia's gown looks sort of gray but I assure you in real life it simply isn't.
THESE ARE NOT BEGINNER PROJECTS BY ANY SENSE OF THE WORD.
Please, please, please... these are complicated pieces with blended colors, hundreds of beads, buttons, half/quarter/partial stitches everywhere, and literally over thirty feet of backstitching throughout. It's a labor of love that I hope you will share with me when you're finished.
Each are approximately two feet tall on 18 count (or 36 count over two). All three use beads, but only Merida and Rapunzel use metallics.

Belle
uses 41 unique symbols: 8 blended colors, 28 solid colors, and 5 bead colors.

152 x 386 stitches.
729 beads!

Rapunzel
uses 52 unique symbols: 10 blended colors, 38 solid colors, 3 bead colors, and Crystaletts for her buttons.

159 x 390 stitches.
302 beads!
Crystaletts can be purchased here:
www.etsy.com/shop/YadasiBeads

Merida
uses 72 unique symbols: 22 blended colors, 45 solid colors, and 5 bead colors.

172 x 403 stitches.
950 beads!
Final times for pattern creation:
Belle
18.5 hours
Rapunzel
15.5 hours
Merida
14.5 hours.
WIPs can be viewed in my scraps:
pinkythepink.deviantart.com/ga…
Fabulous watermark created by
GraniteFire

Original gorgeous deviations: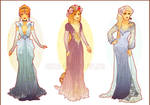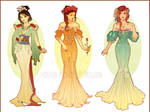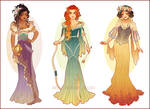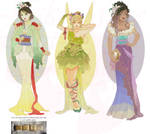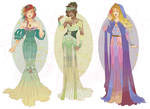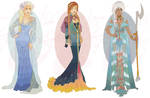 Image details
Image size
3600x1650px 3.28 MB