Description
My oh my I've been working on this one for a long time.

It had a whole lot of time to sit and gather dust. The actual hands-on time isn't so bad.

I finished back in May 2013 but was unable to find time to iron and scan it.
Lots of fun doing this one when I actually was working on it though! Fur can be a hassle to stitch - there's a lot of colors going every direction to imitate it - but in the end it always turns out to be one of my favorite types of projects.

I can't help it, I just love stitching cats! Only a little bit of trouble scanning it as it had to be done in two sections, hopefully you don't notice any seams.
This is a 1994 Dimensions cross-stitch kit, including all threads, fabrics, and the pattern. As it's on 28 count it's worked over two squares, essentially making the pattern itself 14 count in size. This isn't a problem for the background, of course, as the stitchwork has a very fine and clean linen to lay against.
This piece is also my submission to
Magical525
's Get it Done 2013 Stitch-a-long project. You can join yourself and get in on the group action!

magical525.deviantart.com/jour…
Color Total:
22
Size:
18 x 7 inches
Time:
82.5 hours
28 Count tan Linen
WIP Shot: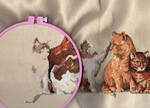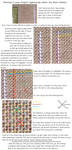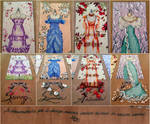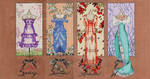 Image details
Image size
2180x968px 1.53 MB